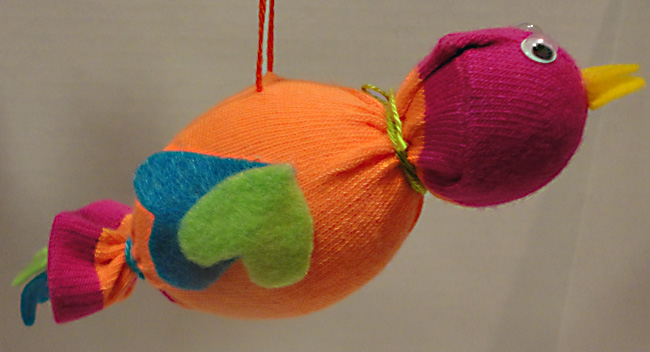 Age Range: 7 to 12
Grade Range: 2 to 6
Skill Level: Moderate
Appropriate for These Special Events:
Every Day and Rainy Days
Supports Subject Area(s) of:
Language Arts – e.g. step by step instructions
Visual Arts
Time Needed for Project:
1 hour plus drying time
Main Materials:
Kunin™ felt – turquoise, lime, bright yellow
FloralCraft® Styrofoam™ – 1 ½" foam ball, 3" egg
Elmer's® Craft Bond Tacky Glue
Horizon – Friendship Thread – bright and neons
Horizon – wiggle eyes (2) – ¼"
Basic Materials:
Childs sock
Scissors
Sewing needle with large eye
Sewing pins
Instructions:
 Cut out patterns from pattern sheet.  Pin patterns onto felt color and cut out number indicated on pattern.
Cut a 12" length of lime and turquoise Friendship Thread.
To make it easier to insert foam ball, roll sock down then insert into toe area.  Smooth sock adjusting so it is centered. 
Insert wide end of foam egg into sock next to head then un-roll sock smoothing fabric as needed.  Pinch fabric at end to create tail. 
To create neck, lay lime floss over neck leaving a 4" tail then wrap remainder several times.  Tie end in knot then tie a bow referring to photo.
Wrap turquoise around end of egg to create tail, wrapping several times.  Tie ends in knot on underside of tail then clip ends close.
Add a thin bead of glue to end on one side of lime tail section then press onto larger turquoise, lining up ends.  Add glue on back at end of turquoise tail then insert into tail section as shown.  Glue turquoise wings on either side of body then add smaller lime sections slightly overlapping.  Hold beak sections together in fingers, add glue to edges then press in place where shown.  Add a dot of glue for each eye then press eye into place. 
Thread needle with orange floss.  Insert needle on back just above center line toward head.  To create hanger, pull thread through leaving a tail, pull up ends and tie a knot with all thread about 4" up.  Trim ends.