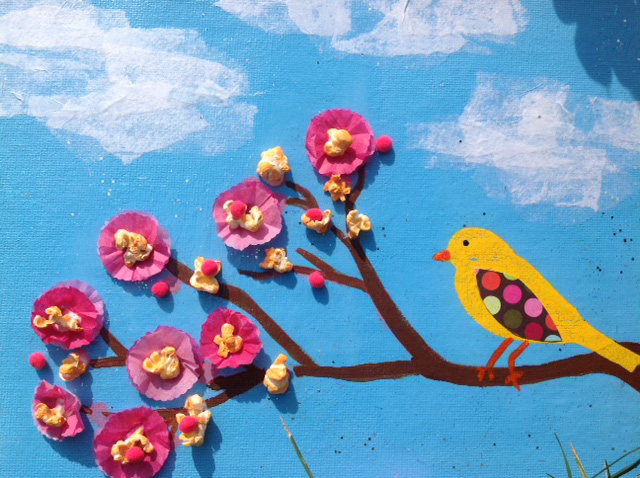 Age Range: 7 to 12
Grade Range: 2 to 6
Skill Level: Advanced
Appropriate for These Special Events:
Every Day and Rainy Days
Supports Subject Area(s) of:
Language Arts – e.g. step by step instructions
Mathematics - measuring
Visual Arts
Time Needed for Project:
2 hours plus drying time
Main Materials:
Elmer's® school glue
Elmer's® school glue gel
Elmer's® Blue glitter glue
Elmer's® paint pen in black
Plaid® Apple Barrel Acrylic Paint in peach
Plaid® Folk Art Paint in light blue, yellow, brown
Plaid® Martha Stewart Crafts™ bird stencil
Plaid® Stencil applicators
Horizon Mini pink pom-poms
Basic Materials:
Popcorn
Canvas
Paint brushes
Decorative paper
White, pink and light pink tissue papers
1" hole punch
Instructions:
Base coat the canvas blue.
Popped corn can be colored with acrylic paint.  Place 2 cups of popped corn in plastic bag and add 2 tablespoons of peach paint.  Toss until the popcorn in colored and layout on newspaper while it dries.   **DO NOT eat the colored popcorn** 
Tear pieces of white tissue paper.  Add them to the canvas with the blue glitter glue, building up layers and sealing them by painting blue glitter glue over top.
Brush a coat of blue glitter glue over the entire canvas.
Apply the branch stencil to the canvas with brown paint-use a stencil dabber to apply the paint.  Set aside to dry. Next add the bird in gold.
Optionally, you can seal the stenciled areas with clear gel glue
Cut 1" circles of pink and light pink tissue paper.  Fold around the end of a pencil (like and umbrella) and use white school to glue to the canvas with popcorn in the center.
Optionally you can add mini pom-poms to the popcorn blossoms with white school glue.