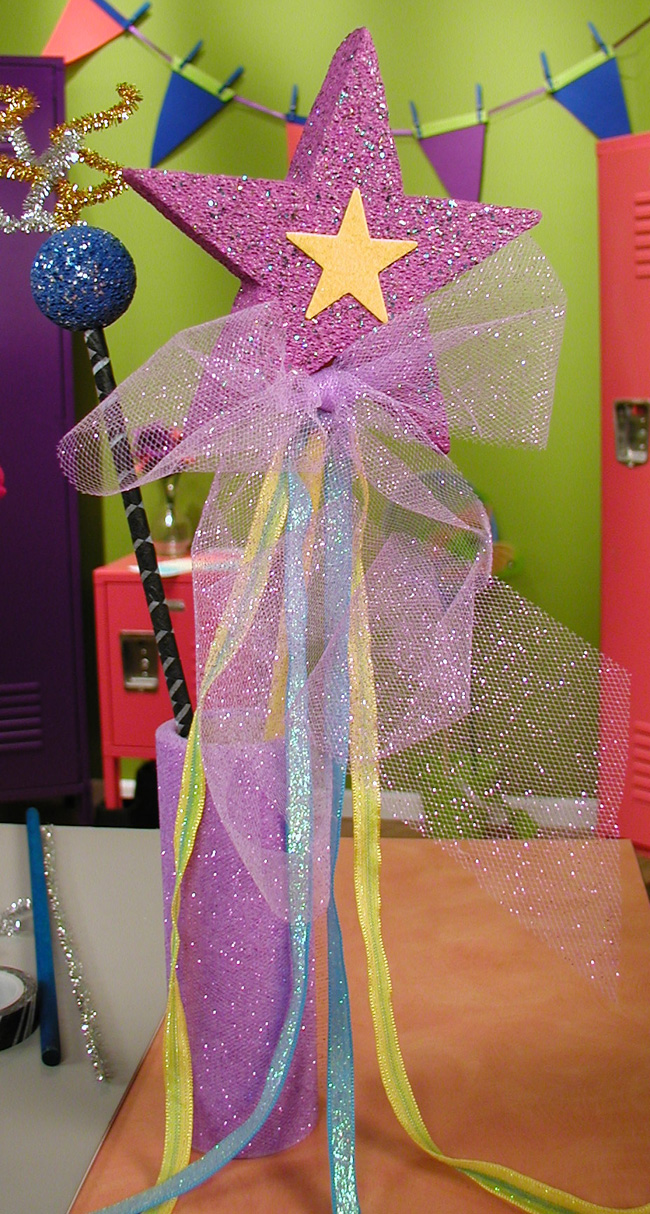 Age Range: 7 to 12
Grade Range: 2 to 6
Skill Level: Moderate
Appropriate for These Special Events:
Every Day, Rainy Days and Parties
Supports Subject Area(s) of:
Language Arts – e.g. step by step instructions
Mathematics - measuring
Visual Arts
Time Needed for Project:
1 hour plus drying time
Materials:
FloraCraft® Styrofoam™ 6" star or 1.5" ball
Horizon Dowel rod
Plaid® Apple Barrel acrylic paint in violet or blue
Sparkly ribbons and tulle for princess wand
Elmer's® black patterned Repositionable Designer Masking Tape for wizard wand
Elmer's® Craft Bond Tacky Glue
Elmer's® glitter pens
Horizon felt star stickers
Horizon sparkly chenille stems
Instructions:
Paint foam shapes in desired colors and set aside to dry.
Cover the wizard wand dowel rod in masking tape or leave alone.
Add a coat of sparkle to the foam pieces with the glitter pens and a paint brush.  Let dry.
Add a felt star to the center of the star foam piece.  Chenille stems bent into zig-zags can be pushed into the center of the foam ball.  Apply glue to ends to secure.
Insert dowel rods into the foam pieces.  Remove dowels, apply glue to hole and reinsert dowel rods.
Knot sparkly ribbons just below the star and tie a tulle bow over the top.