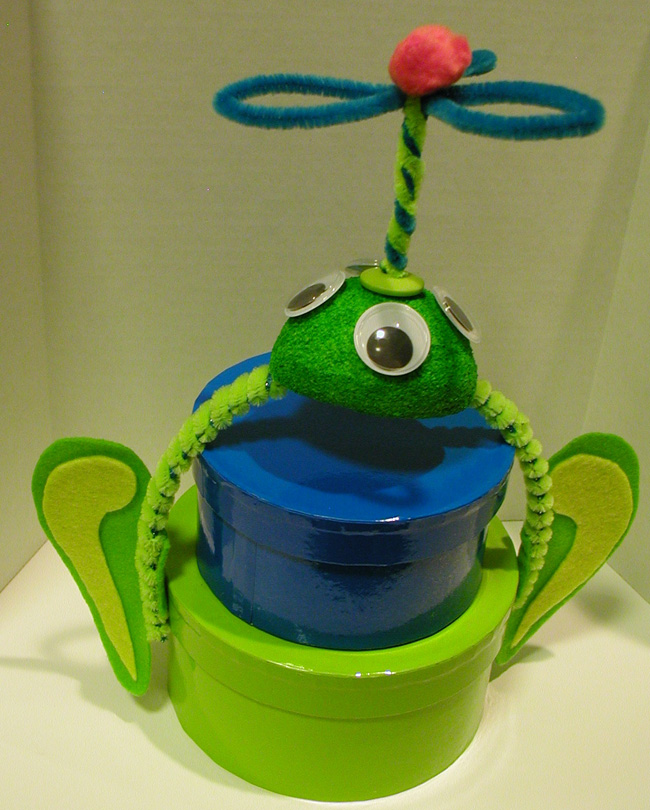 Age Range: 7 to 12
Grade Range: 2 to 6
Skill Level: Moderate
Appropriate for These Special Events:
Every Day, Rainy Days, dress up, costumes
Supports Subject Area(s) of:
Language Arts – e.g. step by step instructions
Mathematics - measuring
Visual Arts
Time Needed for Project:
1 hour plus drying time
Alien Head Band:
FloraCraft® Styrofoam™ 3" ball
Plaid® Apple Barrel neon green paint
Paint brushes
Head band
Horizon neon chenille stems in blue and yellow
Velcro® dots
Horizon 3/4" eye balls
Horizon Pom-poms
Horizon acrylic gems
Neon green and yellow craft felt
Elmer's® Craft Bond Tacky glue
Clothes pins
Click here to download a pattern for this project.

Instructions:
Cut the foam ball in half and form a ridge in the bottom where the head band will sit.  Paint the foam piece neon green.
Cover the head band in yellow chenille stems.
Glue the foam piece to the top of the head band.
Poke a hole in the top of the head band.
Fold a blue chenille stem to make two loops, adding a third stem to make a third loop.  Twist the pieces together to secure.  Fold a yellow chenille stem in half and set over blue looped piece.  Twist the ends together and glue into foam piece.  Glue an orange pom-pom on top of blue looped piece.
Trace ear patterns onto felt and cut out.  Glue the inner ear pieces to the top and then onto each side of the headband.  Hold in place with clothes pins to dry.
Put four Velcro dots around the top of the foam piece.  Attach opposite Velcro pieces to eyeballs and acrylic gems to make it interchangeable.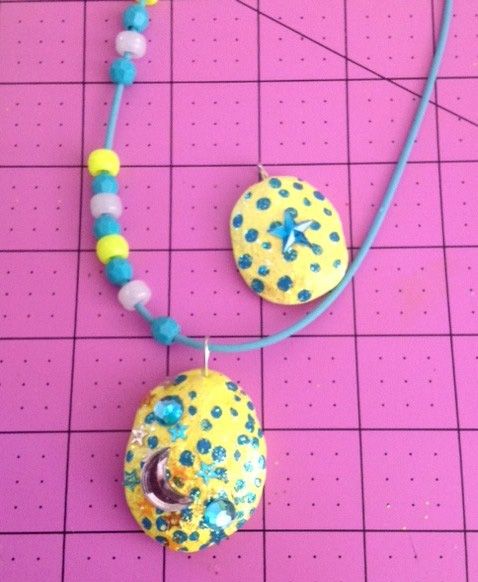 Lucky Moon Rock:
Activa® Premier Air Dry Clay
Plaid® Apple Barrel yellow glow in the dark paint
Pepperell Silkies™ Necklace in teal or black
Horizon Acrylic gems
Horizon Glow in the Dark Pony Beads
Elmer's® Glitter pens
Elmer's® Clear school gel
FloraCraft® Styrofoam™ 2" square
Horizon 20g silver wire
Instructions:
Cut a 2" piece of wire and twist the ends together leaving a loop.
Push your thumb into the foam several times to make a shallow crater.
Roll a ball of clay between your palms.
Push the ball of clay into the foam crater.  Insert twisted wire piece into the edge of the clay piece so it's perpendicular-this is where it will hang from.
Leave the rock to dry.
Paint with yellow glow paint and leave to dry.
Paint a coat of glitter on top and set acrylic gems on top as well.
String the pendant onto Silkies™ necklace with beads on either side.