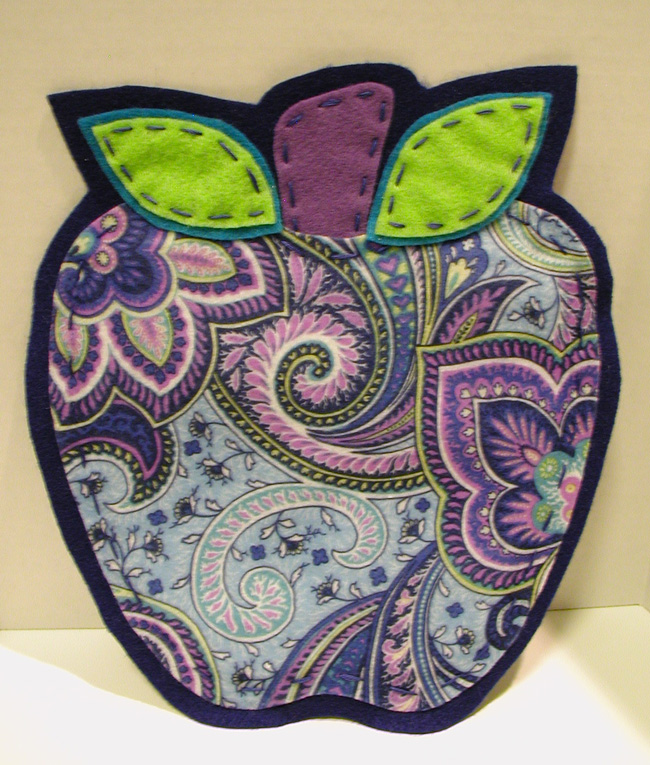 Age Range: 7 to 12
Grade Range: 2 to 6
Skill Level: Moderate
Appropriate for These Special Events:
Every Day and Rainy Days
Supports Subject Area(s) of:
Language Arts – e.g. step by step instructions
Mathematics - measuring
Visual Arts
Time Needed for Project:
1 hour
Main Materials:
Kunin™ Felt
Printzfelt™ - Paisley
Royal Blue
Lime
Turquoise
Lavender
Embroidery floss – royal blue
Elmer's® Tacky Glue
Click here to download a pattern for this project.

Basic Materials:
Sewing pins
Scissors
Sewing needle with large eye
Instructions: 
Cut patterns from pattern sheet.  Pin each to color of felt indicated and cut out. 
Cut another apple shape from white then trim ½" around entire piece.
Turn over printed apple and center white piece in place.  Add a thin line of glue to one side of white piece then press in place to secure.  Run a bead of glue around white shape, position on blue felt and press.
Glue stem in place lifting up apple and inserting underneath where shown.  Let dry.
Pin leaf sections to turquoise felt.  Thread needle with floss then sew a basting stitch around edge of green leaf as shown.  Repeat with other leaf knotting thread to back to secure. 
Referring to photo for placement, glue leaves in place, holding with pins if needed till dry. 
Cut around apple leaving a scant ½" border.