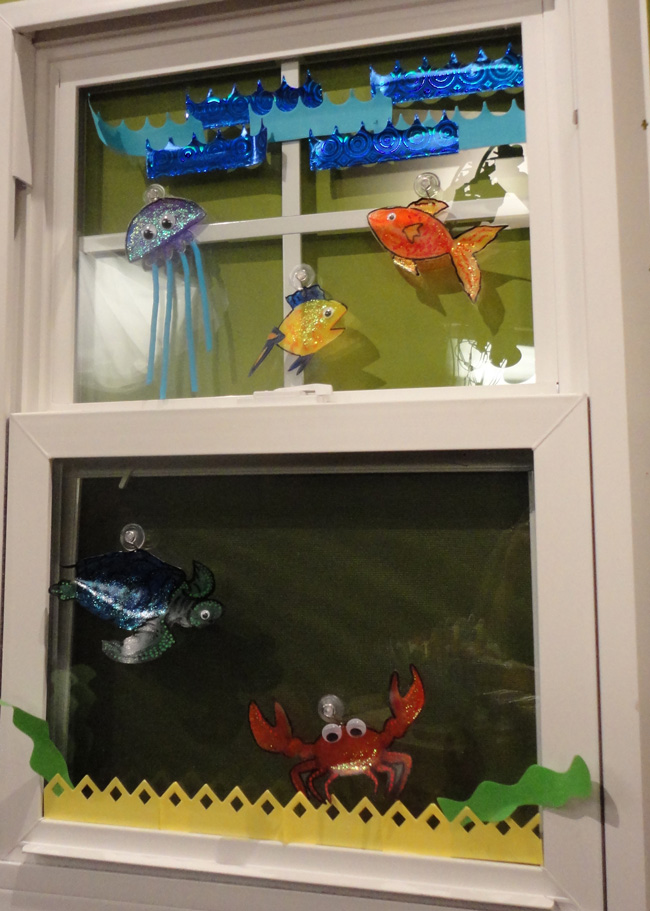 Age Range: 7 to 12
Grade Range: 2 to 6
Skill Level: Advanced
Appropriate for These Special Events:
Every Day and Rainy Days
Supports Subject Area(s) of:
Science
Language Arts – e.g. step by step instructions
Mathematics - measuring
Visual Arts
Time Needed for Project:
1 hour
Main Materials:
Semi-transparent vinyl
Elmer's® Painters Paint Markers
Elmer's® Popperz® Permanent Markers
Elmer's® Craft Bond Tacky Glue
Horizon Wiggle eye assortment
Horizon Suction Cups
Elmer's® Project Popperz® Boarders
Elmer's® Glitter gel pens
Pepperell Wacky Whirly Straw Kit
Click the links below to download patterns for this project:
Basic Materials:
Small hole punch
Paint brush
Scissors
Instructions:
Note: Let paint pen and glitter pens dry between layers.
Lay your fish or desired pattern under the vinyl.  Trace shape with black permanent marker.
Color the shapes with permanent marker.  Add details like polka dots or outline with the paint markers.
Add sparkle by applying a dot of matching glitter gel to the top of the vinyl and brushing over surface---set aside to dry.
Cut the shape from the vinyl with scissors.
For the jelly fish, use the whirly straw cutter to make four or five blue straw tentacles.
Apply a dot of thick glue to the eye areas and put google eyes in place.  The straws for the jelly fish can be added with thick glue also.
Add a wave paper boarder to the top of the window and wavy yellow sand to the bottom.  Plants can be cut from boarders as well.  Punch a hole in the sea life designs and hang from suction cups.