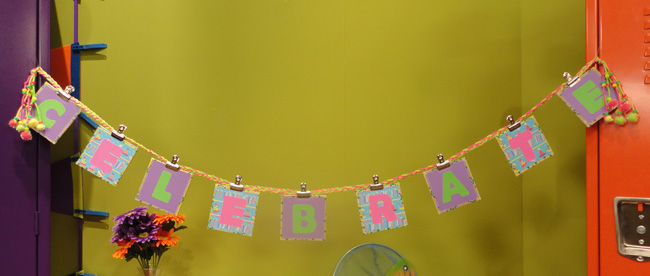 Age Range: 7 to 12
Grade Range: 2 to 6
Skill Level: Easy
Appropriate for These Special Events:
Every Day, Rainy Days, Birthdays and Special Days
Supports Subject Area(s) of:
Language Arts – e.g. step by step instructions
Mathematics - measuring
Visual Arts
Time Needed for Project:
1 hour
Main Materials:
Elmer's® Foam Board
Elmer's® Project Popperz® letters
Elmer's® Repositionable glue stick
Elmer's® Permanent glue stick
X-acto® craft knife, metal ruler and self-healing mat
Elmer's® Designer Masking Tape
Pepperell Amy cord in three colors
Lanyard clips
Elmer's® bull dog clips
Horizon pony beads
Basic Materials:
Pom-poms
Decorative papers
Clothes Pins
Scissors
Instructions:
Cut the foam core on the self-healing mat with the craft knife and straight edge ruler into 10 - 4" squares.
Cut the paper in 4" squares---enough for front and back (20 pieces).  You can alternate papers and patterns.
Use the glue stick to attach the papers to both sides of the squares.
Seal each square's edge with Designer Masking tape.
Braid 6 feet of AMY cord.  Make an overhand knot 8" from each end.
String a bead onto each tail and knot in place.
Use the repositionable glue stick to adhere letters to one or both sides of the squares.
Attach a bulldog clip to the top center of each square.
Attach a lanyard clip to the center of the braided garland followed by the hole on the bulldog clip to hang the letters.  Repeat for remaining squares.