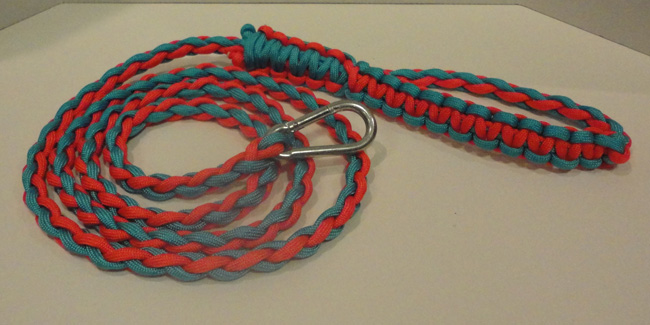 Age Range: 7 to 12
Grade Range: 2 to 6
Skill Level: Advanced
Appropriate for These Special Events:
Every Day and Rainy Days
Supports Subject Area(s) of:
Language Arts – e.g. step by step instructions
Mathematics - measuring
Visual Arts
Time Needed for Project:
1 hour
Materials:
2 skeins of Pepperell Braiding Co. Parachute Cord™
Spring latch for end of leash
Elmer's® Craft Bond Tacky Glue
Tape

*This leash is recommended for small dog breeds.
Tip: Check out Pepperell Crafts Parachute Cord™ Project Book for excellent illustrations of braids and more project ideas. http://www.parachutecordcraft.com/Parachute-Cord-Project-Book_p_40.html
Instructions:
Thread the two pieces of cord through the loop on the latch piece and secure to a sturdy surface with tape.
Number each strand 1, 2, 3, and 4--far left cord is 1 and far right cord is 4. Cords should be laid out so the two on the left are one color and two on right are a different color. If it makes things easier, label each cord with a masking tape tag with the specific number.
To start the braid, bring the #4 cord behind #3 and #2 and up and over #2
Bring the #1 cord behind cord #2 and #4 and up and over #4.
This is the basic lanyard stitch. Pull the cords as you go and you'll see the pattern emerge. Repeat the last two steps for four feet.
Add to the cords tag labels: A, B, C, and D from left to right.
Switch to a Cobra Stitch by bringing the D cord behind the C and B cords and on top of the A cord.
Pick up the A cord and take the end over B and C cords and down through the loop that was made by the D cord. Pull the A and D cords snug, pushing the knot up towards the lanyard stitch. Keep the B and C cords nice and centered.
Continue by crossing strand A over the B and C cords. The A cord then goes behind the D cord, pulling again on the A and D cords.
Repeat the last two steps for 10".
Switch back to the lanyard stitch for 4-6".
Make the loop for the leash handle by folding the last cobra/lanyard section in half.
Secure the loop with 6-8 full cobra stitches---when you bring the cords back and forth, include the initial lanyard stitch section in the center section with cords B and C.
Tie off with knots and secure by the manufacturer's instructions or with thick craft glue.