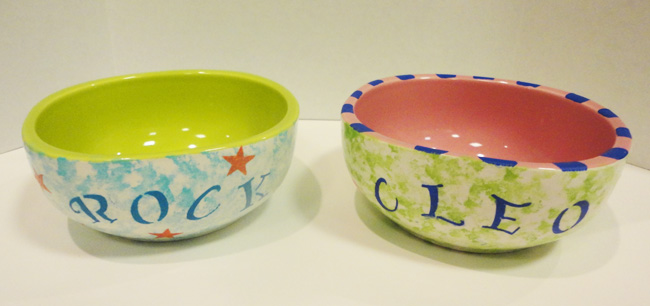 Age Range: 7 to 12
Grade Range: 2 to 6
Skill Level: Moderate
Appropriate for These Special Events:
Every Day and Rainy Days
Supports Subject Area(s) of:
Language Arts – e.g. step by step instructions
Visual Arts
Time Needed for Project:
1 hour plus drying and baking time
Materials:
Ceramic pet bowl
Plaid® MS sea sponge
Plaid® Soft bristle paint brushes
Plaid® Folk Art Enamel paints in desired colors
Plaid® Stencil spouncer
Plaid® Adhesive letter stencils
Instructions:
Put a small amount of paint on a plate and dip sponge in paint.  Blot some paint off to the side.
Sponge paint the outside surface of the bowl.  Do not paint areas that will touch food and water.  Set the paint according to manufacturer's instructions in the oven.
Optionally, you can add stripes and dots to the surface as well.
Spell pet's name with the letter stencils on the bowl and apply paint with the spouncer over the stencils.  Peel away the stencils and leave to dry.  Remember to set all painted surfaces with the oven (see manufacturer's instructions).