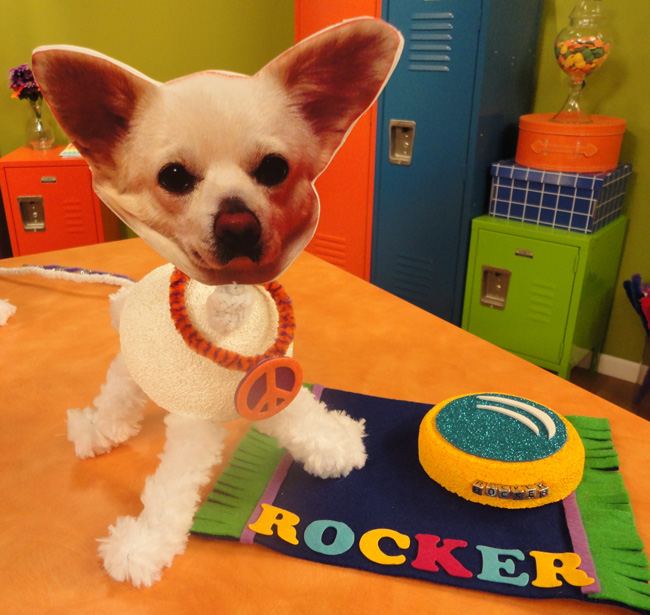 Age Range: 7 to 12
Grade Range: 2 to 6
Skill Level: Moderate
Appropriate for These Special Events:
Every Day and Rainy Days
Supports Subject Area(s) of:
Language Arts – e.g. step by step instructions
Mathematics - measuring
Visual Arts
Time Needed for Project:
1 hour
Bobble Head Pet
Designed by Candie Cooper
 
Main Materials:
Elmer's® Thick Bond Tacky Glue
Elmer's® Rubber Cement or Elmer's® White School Glue
FloraCraft® Styrofoam™ large egg
Acrylic paint in your pets color
2-4 jumbo chenille stems in your pets colors
2 Small chenille stems
Color photo of your pet
Felt embellishment
White craft foam


Basic Materials:
Skewer
Paint brushes
Scissors
Wire Cutters

Paint the egg to match your pet's fur color with acrylic paint and set aside to dry.

Color copy your pets photo so it's scaled to fit the foam egg which will be the body.

Cut the head part from the color copy and mount onto craft foam with rubber cement or white school glue.

Cut the head shape from the foam.  Trace around the head piece onto the foam and cut out to make a second foam piece.

Poke holes in the egg body where the head, four legs and tail will go.

Cut the large chenille stems with wire cutters-4 for the legs, 1 for the neck, and 1 for the tail.  Lengths will depend on the way your dog looks (i.e. long tail, short tail, no tail).

Sandwich the chenille neck piece in between the head and extra foam piece and glue together.  Use clothespins to hold the layers together while they dry.

Bend the ends of the four legs to create paws.

Glue each of the pieces into the egg body with thick glue.

Twist the two chenille stems together and secure around the neck.  Glue the felt embellishment on as a collar charm with thick glue.