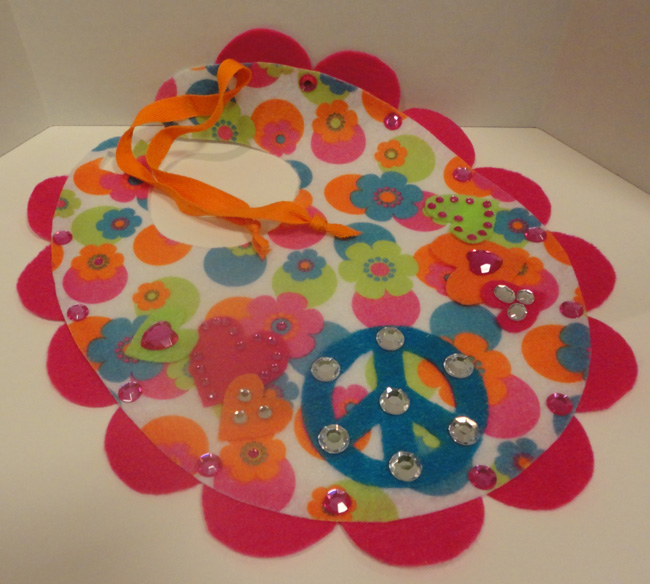 Age Range: 7 to 12
Grade Range: 2 to 6
Skill Level: Moderate
Appropriate for These Special Events:
Every Day and Rainy Days
Supports Subject Area(s) of:
Language Arts – e.g. step by step instructions
Mathematics - measuring

Time Needed for Project:
1 hour plus drying time

Main Materials:
Kunin™ Felt – 60"s Floral Print, fuchsia, lime, orange, turquoise
Horizon – Acrylic Gems – Girly Mix
Elmer's® Craft Bond Tacky Glue

Click the links below to download patterns for this project:
Pattern 1
Pattern 2

Basic Materials:
24" - Ribbon or cotton twill tape
Scissors
Sewing pins or clothes pin
Crayon
Paper plate
Instructions:
Cut out pattern pieces from pattern sheet.  Pin pieces to colored felt and cut out number indicated.
Cut out square on tab of coat pattern.  Flip over felt coat, position pattern in place then use pencil to trace around inside of square.  Cut out.
Glue pink scalloped pieces on wrong side along edge of coat starting at center back and equally spacing along both sides.  Flip over then position and glue remaining felt pieces in place referring to photo for placement. Let dry.
Pour acrylic gems onto paper plate.  Use crayon to add smaller gems in place.  Add a dot of glue where gem is desired then tap end of crayon to top of gem, lift then press into glue – the crayon will hold smaller gems just long enough to set in glue.  Add remaining gems as shown.  Let dry.
Referring to coat pattern for placement, add a dot of glue on front of other tab.  Fold ribbon or cotton twill tape in half then press fold into glue to secure, holding with sewing pin or clothes pin if needed till dry.
Position coat on stuffed animal then pull ribbon ends through hole on other tab tying a bow to secure.  Tie knots in ends of ribbons or cotton twill tape and trim if needed.