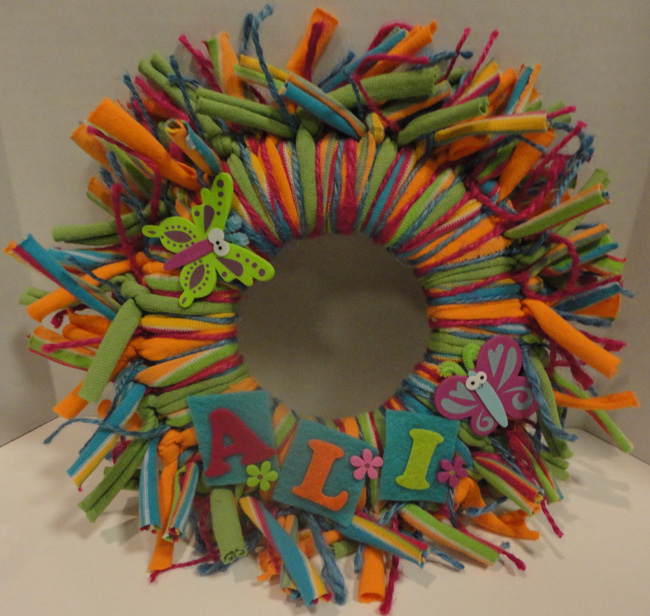 Age Range: 7 to 12
Grade Range: 2 to 6
Skill Level: Moderate
Appropriate for These Special Events:
Every Day and Rainy Days
Supports Subject Area(s) of:
Language Arts – e.g. step by step instructions
Mathematics - measuring
Visual Arts
Time Needed for Project:
1 hour
Materials:
FloraCraft® Styrofoam™ wreath
2 Jersey T-shirts (ribbed will not work)
Horizon jute cord
Horizon felt sticker embellishments--letters, flowers, or sports themed
Horizon foam sticker embellishments--flowers and butterflies
Elmer's® Craft Bond glue
Scissors
Instructions:
Starting at the waist, cut t-shirt in 1" strips horizontally.  Snip to open the t-shirt loops.
Pull each of the strips so they curl up.
Tie a t-shirt strand around the wreath and trim the end, leaving 1.5" tails.  Repeat alternating T colors.  Push the loops up against each other to cover the foam wreath.  Optionally, you can tie a piece of jute in between each t-shirt loop.
Tie a piece of t-shirt or jute to the back of the wreath for it to hang from.
Embellish the front of the wreath with felt or foam pieces.