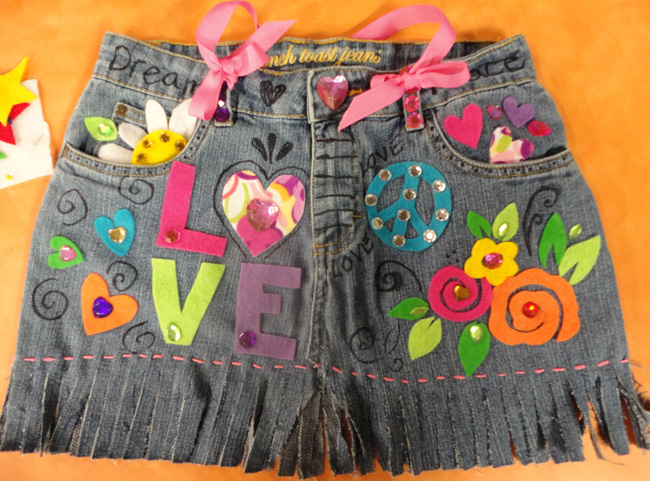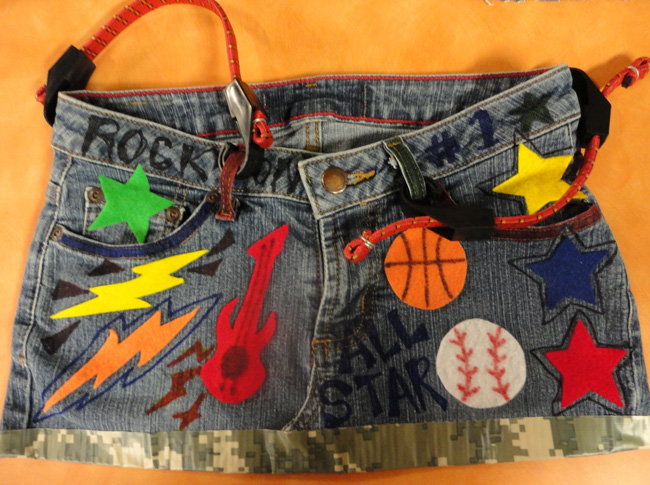 Age Range: 7 to 12
Grade Range: 2 to 6
Skill Level: Advanced
Appropriate for These Special Events:
Every Day and Rainy Days
Supports Subject Area(s) of:
Social Studies
Language Arts – e.g. step by step instructions
Mathematics - measuring
Visual Arts
Time Needed for Project:
1 hour plus drying time
Main Materials:
Elmer's® Project Popperz™ - Duel Tip Markers
Elmer's® Craft Bond Tacky Glue
Kunin™ Felt – bright green, yellow, royal blue, red, white, orange
Click here to download a pattern for this project.


Basic Materials:
Jeans – light color
Duct tape – camouflage design
Scissors
Bungee cords
Sewing pins
Instructions:
Cut off legs from jeans about 6" below crotch.  Line up side seams and waistband then cut straight across jeans just above seam at crotch.
To create a flat surface under zipper area, snip fabric next to center seam to just below zipper.  Overlap seam over fabric till flat.  Add glue to underside of seam then press back in place.  Repeat on back seam if needed.  All jeans are different – some will have more overlap than others. 
Place pants, right side up, on work surface lining up cut edges and side seams then trim again if needed for a straight edge.  Add several pins about 3" up from edge through all layers to hold in place.  Pull tape to length of cut edge plus 1" at each end.  Cut tape.  Position and press top half of tape onto front of jeans. 
To create a finished edge at sides, cut out a small section of tape – cut center of tape in 1" at end to side of jeans then cut up along side seam.   Remove small section of tape that has been cut off.  Repeat with other side. 
Flip jeans over, fold up tape, pressing to secure then fold tabs at ends to front.  Press along tape and folded edge for a secure hold.
Cut out patterns from pattern sheet.  Pin pieces to felt and cut out referring to photo for colors. 
Use Project Popperz to detail basketball, baseball and guitar.  Position all felt pieces in place where desired then glue, pressing to secure. 
Detail jeans with Project Popperz.
Use bungee cords to attach to bike.