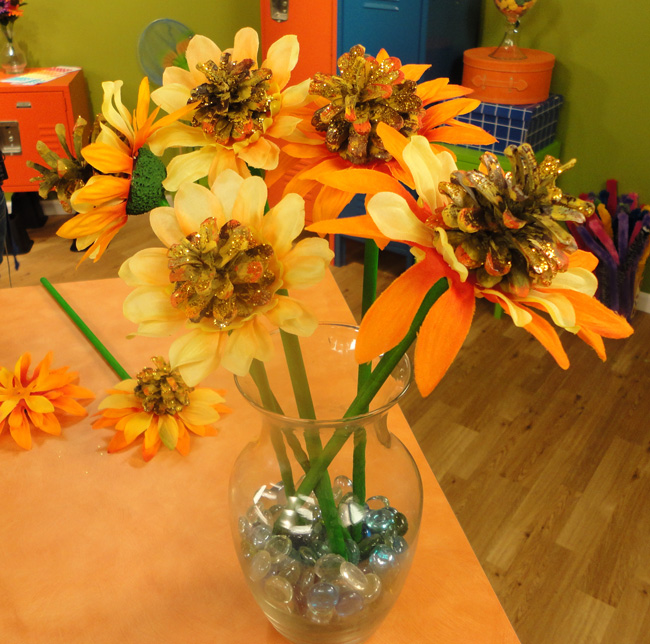 Age Range: 7 to 12
Grade Range: 2 to 6
Skill Level: Easy
Appropriate for These Special Events:
Every Day, Rainy Days and Holidays
Supports Subject Area(s) of:
Language Arts – e.g. step by step instructions
Visual Arts
Time Needed for Project:
30 minutes plus drying time
Main Materials:
Horizon Dowel rods-various sizes
FloraCraft® Styrofoam™ 1.5" ball
FloraCraft® tool kit
Elmer's® Project Popperz® glitter in gold
Plaid® Green Apple Barrel paint
Plaid® Folk Art Paint in Orange, Brown and Gold
Elmer's Thick Craft Bond Glue
Elmer's® Gold Glitter Glue
Paint brush
Pine Cones
Silk Sunflowers
Sea Sponge




Instructions:
Cut the foam ball in half.   Poke the dowel rod into the rounded side of the ball-this is for the dowel rod stem.  Vary the angles that the dowel is poked in.  Paint each side of the ball pieces green as well as the dowel rods.
Dilute the gold paint with water and brush over the pine cones with a big brush to make getting in the tight spots easier.  Leave to dry.
Sponge paint brown and orange onto the pine cone.
Take apart the sunflowers so only the petal pieces remain.  Glue the petal layers together with thick glue.
Paint the pine cone edges with gold glitter glue.
Glue the pine cone on top of the sunflower petals with thick glue.
Glue the flat side of the foam ball to the back of the petals and leave to dry.
Put some glue into the inside the hole on the foam ball and insert a dowel rod.  Leave to dry.
Optionally you can add paper or silk leaves to the dowel rods.