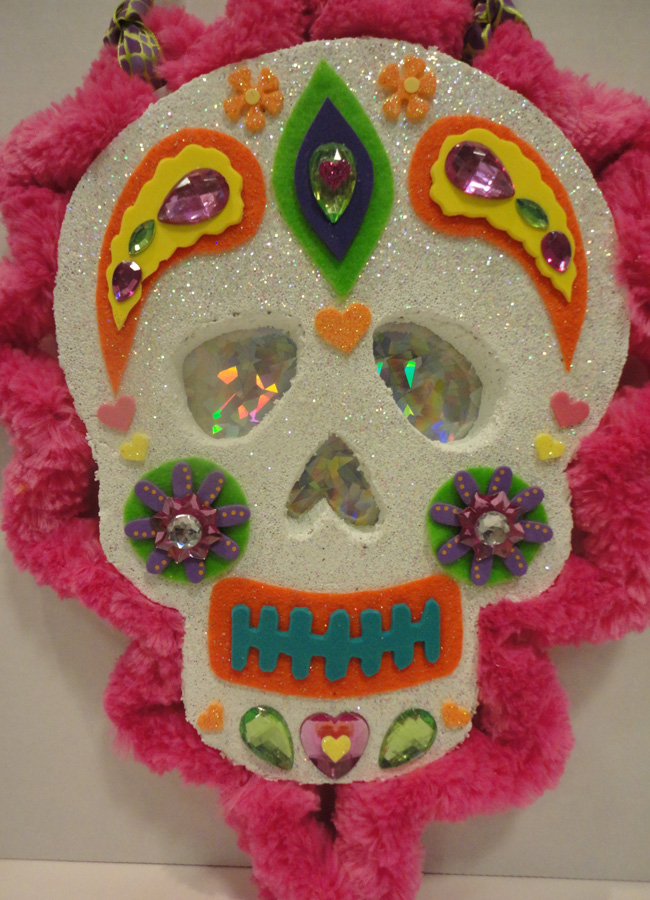 Age Range: 7 to 12
Grade Range: 2 to 6
Skill Level: Moderate
Appropriate for These Special Events:
Every Day and Rainy Days
Supports Subject Area(s) of:
Language Arts – e.g. step by step instructions
Visual Arts
Time Needed for Project:
1 hour plus drying time
Main Materials:
Horizon Bucket of Bling acrylic gems
Craft felt and foam assortment
Elmer's® Holographic foam core sheet
Elmer's ®Craft Bond tacky glue
Horizon Foam flower stickers
Plaid® Apple Barrel White gloss paint
Elmer's® White School Glue
FloraCraft® 12 x 1" foam sheet
Elmer's® Project Popperz® iridescent glitter
Pepperell extra-long noodle
X-acto® knife and cutting mat





Basic Materials:
Decorative ribbon
Long straight/corsage pins
Serrated knife
Paint brush
Scissors
Pencil
Instructions:
Trace the skull shape onto the foam and cut out with serrated knife.
Paint the skull white and set aside to dry.
Spread a layer of white school glue over the top of the skull and sprinkle with glitter.
Cut a rectangle that will fit on the back of the skull from the holographic foam core.  Glue this piece to the back of the skull.
Trace decorative patterns and mouth onto craft foam and/or felt and cut out.  Glue corresponding pieces together and top with acrylic gems.
Using photo as a guide, glue these pieces to the skull.  Add extra embellishments with the gems and foam stickers.
Make short zig-zags along the noodle.  Poke a hole in the edge of the skull and glue end of noodle in.  Continue adding glue to the ends of the zig-zags and pinning with straight pins around the edge. Finish by poking the end of the noodle into the side. Leave to dry.
Tie the decorative ribbon to the top of the zig-zags to hang.