Age Range: 7 to 12
Grade Range: 2 to 6
Skill Level: Advanced
Appropriate for These Special Events:
Every Day and Rainy Days
Supports Subject Area(s) of:
Language Arts – e.g. step by step instructions
Mathematics - measuring

Time needed for project:
Time: 2.5 hr
Main Materials:
3 - Elmer's® Bi-fold Foam Boards, 12" x 18"
Elmer's® Painters Pen
Elmer's ® Board Mate™ Glue
Elmer's® Glue Spots
X-ACTO® Craft Knife
Ruler
Alex® Toys duct tape(various colors, thick and thin) at least 3 rolls each
Decorative scrapbook or craft paper, at least 9" x 12"
Aluminum foil
FloraCraft® Styrofoam™ square, 12" x 12"
Basic Materials:
Plastic knife to cut foam square to size
Pencil
Scissors
Cutting mat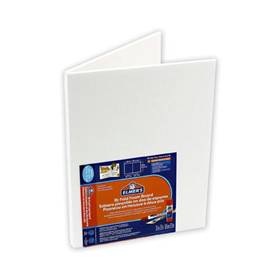 Directions:
1. To form the base for your house, tape a decorative piece of paper to the top of your Styrofoam square using duct tape. Leave a clean edge with the duct tape by folding it over so it covers the side of the Styrofoam. 20 min.
2. Cut one of the bi-fold foam boards in half with X-acto knife. 5 min.
3. Choose paper to use for the three interior walls of your house. Cut the paper to 9" x 12" size and glue it onto the inside of one foam bi-fold and one side of a half that you previously cut.
20-30 min.
4. Using your ruler, cutting mat and X-acto, measure and cut out the other half of the separated bi-fold so it is 9" x 9". Cover this on one side with a decorative piece of paper for the floor. 20 min.
5. For the roof of your house, cover the outside of your remaining bi-fold with one or two layers of crumpled aluminum foil. Do this one side at a time. Fold the aluminum foil around the edges of the roof and tape it down with thin duct tape. 30 min
To assemble:
1. Use duct tape in a stripe pattern and tape your back and side walls together. Do this by wrapping one thick strip around the whole base of the outside walls and work your way up.
30 - 40 min.
2. Slide the 9" x 9" divider piece into the now three-walled house and secure with glue spots. Tape it in place with thick pieces of duct tape. 10 min.
3. Place Elmer's Craft Bond Glue Spots on the top edge of the house and place the roof on top to secure it in place. 5-10 min.