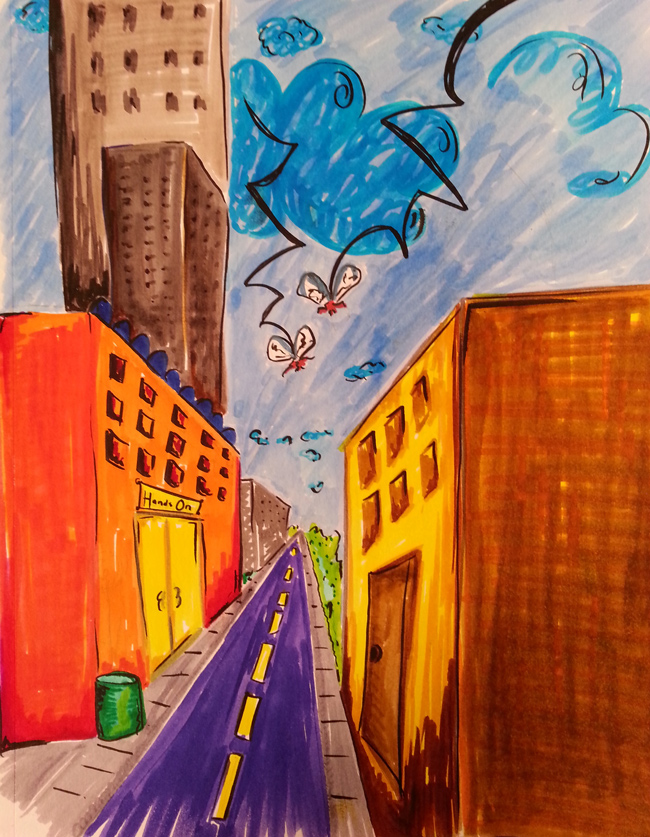 Age Range: 7 to 12
Grade Range: 2 to 6
Skill Level: Advanced
Appropriate for These Special Events:
Every Day and Rainy Days
Supports Subject Area(s) of:
Social Studies
Language Arts – e.g. step by step instructions
Mathematics - measuring
Visual Arts
Time needed for project:
30-45 minutes
Materials Needed:
- Canson® Mixed Media Sketchbook, two pages
- Sakura® Koi Watercolor Pens or
- Paint brushes
- Pencil
- Ruler
-Sakura® Black Micron Pen
Directions:
1. Draw a line across the center of your page with a pencil and make a dot in the middle.
2 min + dry time
2. Line the edge of your ruler up with the dot so that it goes down at an angle towards the bottom of the page.  Draw a line from the dot to the bottom of the paper. Repeat on the opposite side of the page.
2 min
3. Now line the ruler up with the dot and the top of the page at an angle and draw a line.  Repeat for the opposite side.  Your page should start to look like there are rays coming out from the dot. 
2 min.
4. Draw vertical lines between the four drawn lines---these will be your sky scrapers.
2 min.
5.  Depending on your scene, you may need more lines to create side walks and roads. 
5 min
6.  Fill in the areas of the drawing with Koi Watercolor pens.  Use water to brush out the color.  Add details with other markers.
15-20 min.
7.  Outline your drawing and add details with the black Micron pen.
5 min.