| | |
| --- | --- |
| Sweet Silhouettes by Candie Cooper | |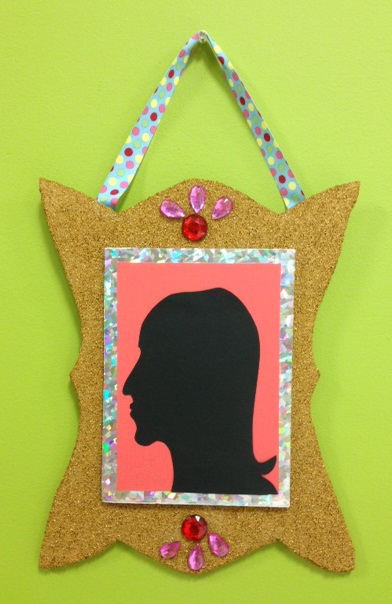 Age Range: 7 to 12
Grade Range: 2 to 6
Skill Level: Advanced
Appropriate for These Special Events:
Every Day and Rainy Days
Supports Subject Area(s) of:
Social Studies
Language Arts – e.g. step by step instructions
Mathematics - measuring
Visual Arts
Time needed for project:
Total Time: 1 hr.
Materials Needed:
- FloraCraft® foam board, 1/2" x 18"
- Plaid® Gold Acrylic Paint
- Elmer's® BoardMate™ Glue Stick
-Elmer's® Glues Spots
- Elmer's® Holographic Foam Core
- Styrofoam™ cutter or plastic knife
- Cutting mat
-Stiff Paint Brush
- Colored Cardstock
-Black Paper
- Gems
-Ribbon
Right click this link and choose "Save As" to download a pattern for this project.
Directions:
1. Trace or draw the frame pattern onto the foam and cut out with foam cutter.  Smooth the edges with a small piece of foam.
10 min
2. Paint the foam piece with gold paint.
10 min + dry time.
3. Trace around or draw a friend or relative's silhouette onto black paper with a pencil and cut out.  Mount the piece onto a 6 x 8.5" colored piece of card stock.
15 min +
4.  Cut a piece of holographic foam core 7 x 9.5" and mount the silhouette piece on top using a glue stick.
5 min.
5.  Adhere the foam core piece to the foam frame shape with glue spots.
2 min
6.  Cut a 15" piece of ribbon and secure to the back with glue spots.  Make one for the whole family!
5 min