Age Range: 7 to 12
Grade Range: 2 to 6
Skill Level: Moderate
Appropriate for These Special Events:
Every Day and Rainy Days
Supports Subject Area(s) of:
Language Arts – e.g. step by step instructions
Visual Arts
Time needed for project:
1.5 hours

Materials Needed:
- Elmer's® School Glue
- Plaid® Folk Art Acrylic paint
- Pre-stretched canvas
- Paint brushes
- Pencil
- Bowl of water
- Paper towels
- Flower gems, blue and clear flat back crystals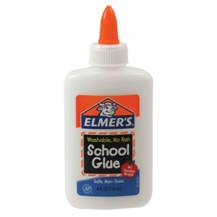 Directions:
1. Draw a tree on the canvas with your pencil.  Make a line for the ground to separate the grass and sky.
10-15 min.
2. Paint the blue sky background, a brown tree trunk, and the green leaves of the tree. Let the paint dry for 10 minutes.
20-30 min. + 10 min. dry
3. Use your thumbprints to paint the grass underneath the tree.
15 min.
4. After the paint has dried, go back in and paint a symbol for each season of the year: winter, spring, summer, and fall. Put each seasonal symbol in a different corner of the tree.
20 - 30 min.
5.  Cut small acorn shapes and bird wings from paper and glue to the shapes on the painting.  Glue acrylic gems to the eyes of the birds, snowflake centers, and flower centers.
15 min