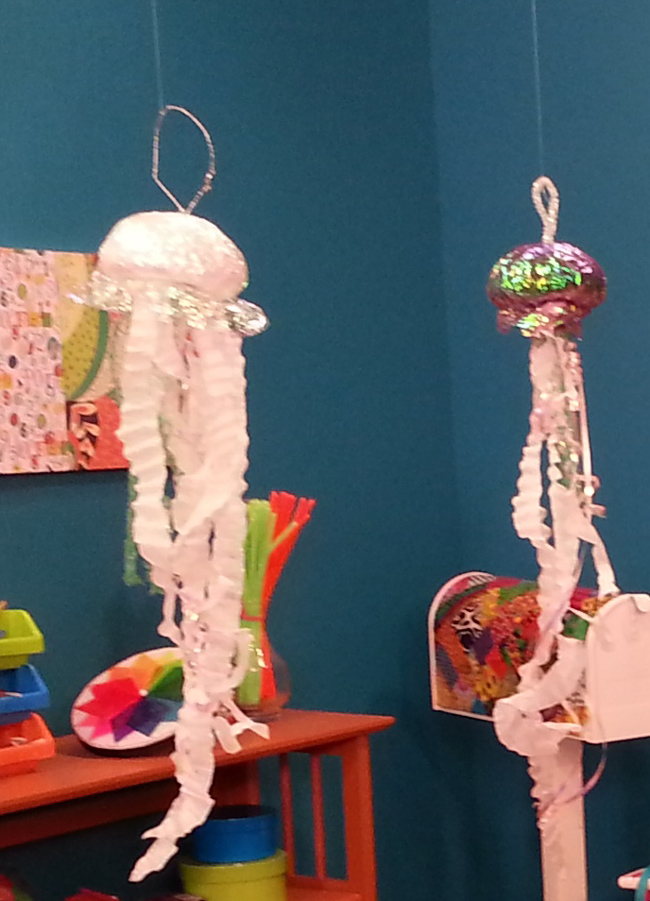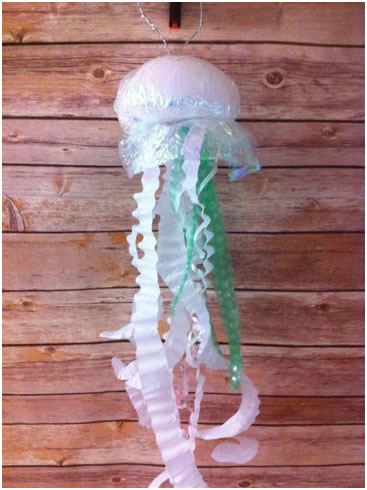 Age Range: 7 to 12
Grade Range: 2 to 6
Skill Level: Easy to Moderate
Appropriate for:
Science Project, Every Day and Rainy Day Activities
Supports Subject Area(s) of:
Science
Language Arts – e.g. step by step instructions
Visual Arts
Time needed for project:
1 hour
Jellyfish Wind Catcher
by Jenny Barnett Rohrs
Materials List:
FloraCraft® Foam - 5" ball
rubber band
plastic knife
acrylic craft paint/brush (optional)
scrap of cellophane basket wrap, 18" square
sparkly chenille stem
scraps of curling ribbon, 12-18 inches
small bubble wrap
round coffee filters (3-4)
scissors
knitting needle or chopstick
white glass-head pins
craft mat
Step 1: wrap a rubber band around the diameter of the Styrofoam ball. Use this as a guide to cut the ball in half using the plastic knife.
Step 2: Using the flat edge of one half, "sand" the edges of the other half to make it smooth and rounded.
Step 3: (optional) Paint with acrylic paint and set aside to let dry.
Step 4: Using the knitting needle, pierce a hold through the middle of the Styrofoam in the middle of the dome.  This is where your hanging loop will be.
Step 5: Prepare the tentacles by cutting 3-5 long strips of bubble wrap about 1/4 inch wide, or the width of one "bubble." Cut 3-5 pieces of curling ribbon. Gather all your strips and ribbons and hold at one end. Use one end of the chenille stem to wrap them tightly together.
Step 6: Lay the dome upside down on the cellophane draw it up and around the curved end and gather it with one hand.  Using your other hand, thread the chenille stem up through the gathered cellophane and through the hole in the underside. Pierce the cellophane with the stem, and snug the tentacles up tightly. 
Step 7: Using the rubber band, secure the gathered cellophane and tentacles at the base. Turn the stem coming from the top into a loop and twist for hanging.
Step 8: Starting at the outside edge, cut the coffee filters into a spiral.  Fold the long trails of paper in half and secure with pins under the cellophane at the base, causing it to puff out a bit.
Hang and enjoy!
For more information visit:
www.CraftTestDummies.com