Age Range: 7 to 12
Grade Range: 2 to 6
Skill Level: Easy
Appropriate for:
Every Day and Rainy Day Activities, Parties
Supports Subject Area(s) of:
Language Arts – e.g. step by step instructions
Mathematics – measuring
Visual Arts
Time needed for project:
1 hour for construction, several hours drying time for glues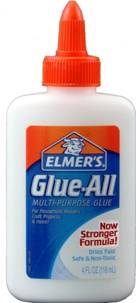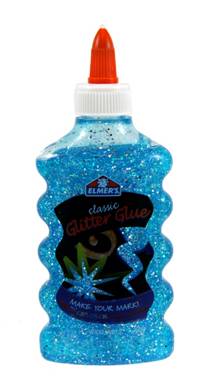 Bowling Game
By Beth Watson
Materials Needed:
Elmer's® Classic Glitter Glue – Yellow, Blue, Red, Green, Purple and Pink
Elmer's® Glue-All®
Kunin™ Group Rainbow Classicfelt™ – Rose Bon-Bon, Red, Peacock, Yellow, Neon Green, Violet Sky and White
FloraCraft® Foam – 3 " ball
Water Bottles – 16 oz. (10); Mini Paper Cups; Circle and Strip Templates; Number Stickers
Tools:
Scissors; Pencil or Marker; Paper Towels; Disposable Foam Brush; Skewer; Water Basin.
Pattern: (right click and choose "Save As" to download to your system)

Directions:
STEP 1:  Rinse, dry and remove labels from 10 water bottles (keep lids).  Remove nozzle from Classic Glitter Glue, pour into bottle and swirl around until the entire inside of the bottle is covered.  Turn bottle upside down in to a paper cup to allow extra Glitter Glue to drain out.  Pour extra Glitter Glue back in Glitter Glue container.  Repeat with remaining 9 water bottles.  Let dry several hours or overnight.  NOTE: Create 4 Blue; 2 Red; 1 Pink; 2 Green and 1 Purple water bottle bowling pin.
STEP 2:  Trace and cut out ten 3" circles from White felt.  Trace and cut out 1" by 10" strips and 2 ½" circles from colored felt.  4 Peacock; 2 Red; 1 Rose Bon-Bon; 2 Neon Green and 1 Violet Sky.
STEP 3:  Attach colored circles of felt on white circles of felt with Glue-All.  Attach colored felt strips to top rim of matching colored water bottle bowling pins with Glue-All.  Attach layered felt circles to front center of water bottle bowling pins with Glue-All.
STEP 4:  Insert skewer into 3" foam ball to use as a handle.  Coat foam ball with Yellow Classic Glitter Glue using foam brush, set aside to dry.  Apply a second coat, if necessary.
STEP 5:  Screw caps on water bottle bowling pins.  Attach number stickers to center of colored felt circles.  NOTE:  Set up water bottle bowling pins in a triangle pattern and knock them down with foam bowling ball.  Keep score by adding up the numbers from the water bottle bowling pins that fall down!
For more information visit: www.bwdesignstudio.blogspot.com