Age Range: 7 to 12
Grade Range: 2 to 6
Skill Level: Easy
Appropriate for:
Gift Ideas, Every Day and Rainy Day Activities
Supports Subject Area(s) of:
Language Arts – e.g. step by step instructions
Visual Arts
Time needed for project:
1 hour, plus  drying time for glue and paint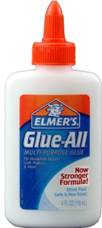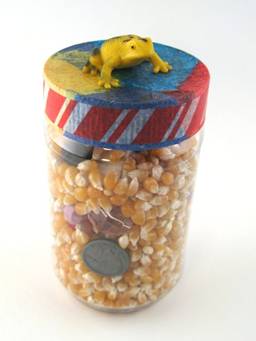 Treasure Jar
by Katie Hacker
Materials Needed:
Plastic peanut butter jar
Elmer's® Glue Stick
Elmer's ® Washable School Glue
Elmer's ®Yellow Glitter Glue
Elmer's® Glue-All®
Decorative tape
Tissue paper: yellow, red, blue, turquoise
Foam paintbrushes for glitter glue
Dry popcorn (you might want to wash/dry this before crafting)
Plastic animal for top of jar and small items to go inside jar
Photo of items and piece of cereal box for backing
Pencil
Scissors
Directions:
Use a glue stick to glue the photo to a piece of cereal box.
Use the lid from the peanut butter jar to trace around the photo and cut it out.
Tear up medium-sized pieces of tissue paper.
Spread a thin layer of school glue onto the lid and press the tissue paper onto it. Do several layers for darker, more opaque color. Let it dry.
Place decorative tape around the edge of the lid.
Spread glitter glue over the top of the lid.
Use thick white glue to attach the plastic animal to the top of the lid. Set it aside to dry.
Place popcorn and small items inside the jar.
Place the photo of the items inside the lid, place a line of thin white glue inside the edge of the lid and attach the lid to the jar.