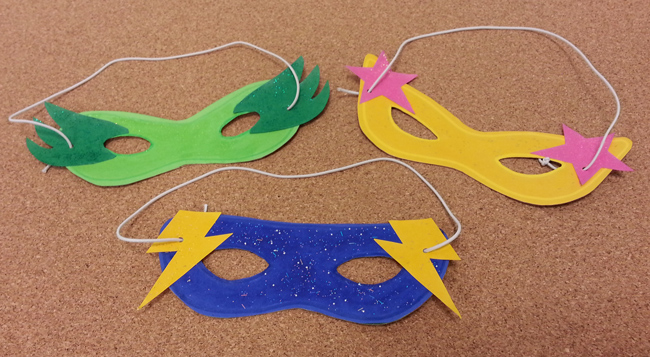 Age Range: 7 to 12
Grade Range: 2 to 6
Skill Level: Easy
Appropriate for:
Make Believe, Every Day and Rainy Day Activities
Supports Subject Area(s) of:
Language Arts – e.g. step by step instructions
Visual Arts
Time needed for project:
1 hour, plus time for glue to dry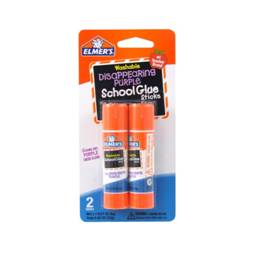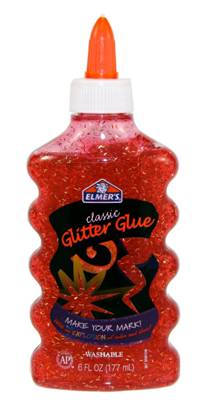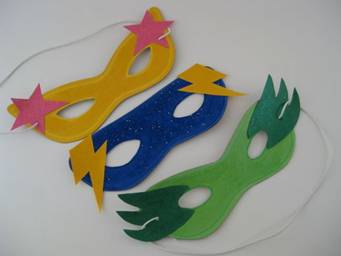 Super Hero Masks
by Katie Hacker
Materials Needed:
6 colors of card stock
Cereal box
Elmer's® Glue Stick
Elmer's® Classic Glitter Glue
Scissors
Paintbrush for glitter glue
Pencil
Elmer's® Painters® Markers to match card stock
Mask and shape templates (free printable)
Small hole punch
Elastic cording
Directions:
Print and cut out the mask and shape templates.
Use a glue stick to glue one sheet of card stock to the front of a cereal box.
Trace the mask template onto the back of the covered cereal box and cut it out.
Trace two shapes onto card stock and cut them out.
Use a paint marker in the same color to outline the mask and/or the shape.
Use a paintbrush to spread glitter glue onto the mask and/or the shapes and glue the shapes to the mask. Let it dry.
Punch a hole in a shape pattern, then use it as a template for punching a hole on each side of the mask.
String elastic cording through the front of the holes and tie each end in a knot on the back of the mask.
For more information visit:
www.katiehacker.com