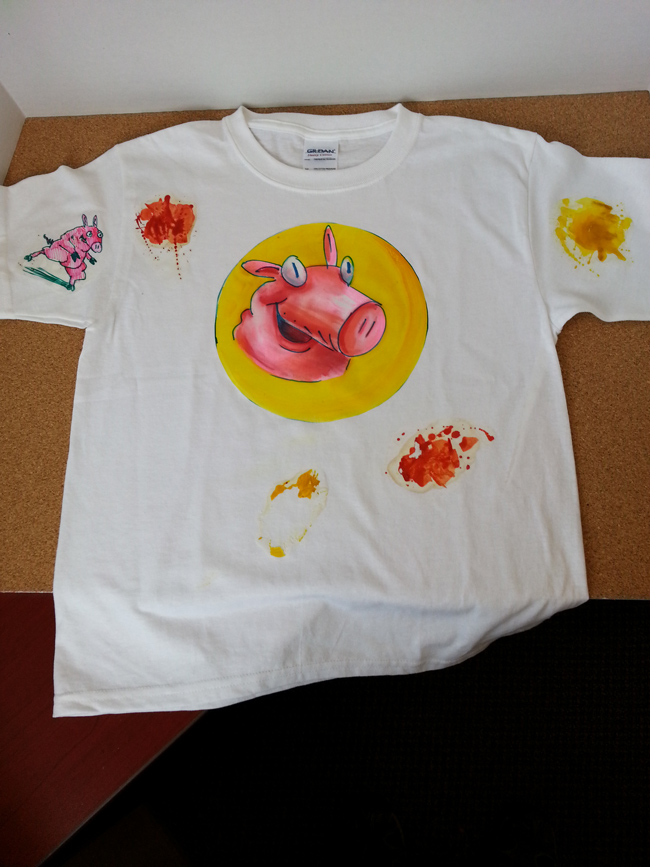 Age Range: 7 to 12
Grade Range: 2 to 6
Skill Level: Moderate to Advanced
Appropriate for:
Every Day and Rainy Days
Supports Subject Area(s) of:
Language Arts – e.g. step by step instructions
Mathematics – measuring
Visual Arts
Approximate time needed for project:
2 hours
Wear it: Uniforms, fashion, costumes and everyday dress all play a role in our lives. What you wear to school may differ quite a bit from what you wear to a wedding.  The clothes that you wear can indicate what you are doing. School clothes, studio clothes, sports clothes, etc.
Design a Tee Shirt
Materials Needed:
Faber-Castell Beeswax Crayons
Faber-Castell Connector Paints
Faber-Castell Connector Pens
Faber-Castell Gel Sticks
T-Shirt
Iron
Scissors
T-shirt transfer paper
Design a t-shirt with a theme that will indicate when you might wear it or what you are thinking about during an activity. Draw directly on a sheet of Fabric Transfer Paper. This can be a blank piece or you can pre-print words on it first from an inkjet printer and then draw on it. The image that you draw will be reversed when it is ironed onto the t-shirt so keep this in mind, especially when using letters, numbers and words. You can draw a number of images and cut them out and transfer them separately. The t-shirt is your canvas and it will be fun to think about the whole shirt – front, back, sleeves and sides. Perhaps a shy dragon peeking out from beneath your arm?  Have an adult help you iron your design on to your t-shirt.