Age Range: 7 to 12
Grade Range: 2 to 6
Skill Level: Easy to Moderate
Appropriate for:
Make Believe, Every Day and Rainy Day Activities
Supports Subject Area(s) of:
Language Arts – e.g. step by step instructions
Visual Arts
Time needed for project:
1 hour for construction, at least 2 hours for glue to dry, plus time to soak, wash and dry.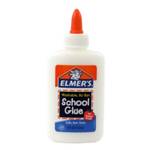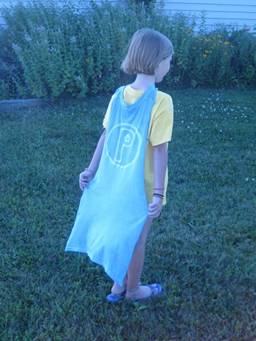 Tee Shirt Cape
by Katie Hacker
Materials Needed:
White t-shirt
Elmer's® School Glue
Rit® ColorPerfect™ fabric dye
Scissors
Plastic plate or other circle template
Cold water
2 bowls or small buckets
Plastic gloves
Newspapers or plastic to cover your work surface
Plastic storage tote lid, piece of scrap foam board or
cardboard to place inside shirt
Yardstick
Directions:
Cover your workspace with newspapers or plastic.
Lay a yardstick from about an inch off the collar in a diagonal down to the side seam on the shirt and cut the shirt; repeat for the other side.
Cut around the collar on the front of the shirt.
Place a plastic lid, piece of cardboard or scrap foam board inside the shirt.
Place the plastic plate centered over the back of the shirt.
Use school glue to trace around the plate, then carefully lift the plate away.
Draw your initial letter inside the circle.
Let the glue dry completely. This takes a while! (Allow 2 hours.)
Put on the plastic gloves.
Place enough water to cover your shirt and add drops of dye until you like the color. (You can test it with a paper towel.)
Place the shirt into the dye.
Remove the shirt and soak it in cold soapy water for 10-15 minutes to remove the glue.
Follow the manufacturer's instructions for washing and drying your customized t-shirt cape.
Tip: If you're making this for small children, add a Velcro closure at the front of the collar to prevent a choking hazard.
For more information visit:
www.katiehacker.com