Age Range: 7 to 12
Grade Range: 2 to 6
Skill Level: Easy
Appropriate for:
Every Day and Rainy Days Activites,  Parties
Supports Subject Area(s) of:
Language Arts – e.g. step by step instructions
Mathematics - measuring
Visual Arts
Time needed for project:
1 hour plus drying time for glue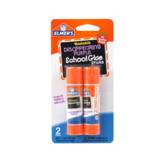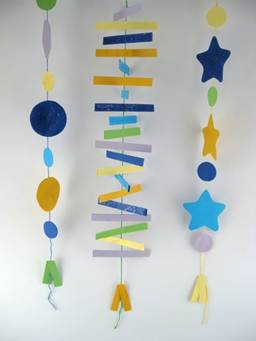 Colorful Paper Garland
by Katie Hacker
Materials:
Card stock in assorted colors
Embroidery floss or other string
Adhesive tape
Elmer's® Classic Glitter Glue
Elmer's® School Glue
Scissors
Paintbrush for glitter glue
Pencil
Shape templates: cookie cutter shapes, bottles or cups to trace
Craft mat & ruler
Optional: paper punches, paper trimmer
Directions:
For the rectangles: Use scissors or the paper trimmer to cut a piece of paper in half length-wise. Now, it into half-inch strips. Or, measure with a ruler, mark with pencil and cut with scissors. For the circles: Use two sizes of circle punches or use a pencil to trace around two different sizes of cylinders to make circles and cut them out. For the stars: Use a pencil to trace around a cookie cutter and cut it out. Repeat for as many of each shape as desired.
Tie an overhand knot to make a loop at the top of a string. Tape the loop to the craft mat.
Fold a paper strip in half and use scissors to cut a small slit in the fold. Poke the string through the slit and tie it in a knot inside the fold. Glue the fold together.
Pull the string tight and tape it down at the desired length of the garland.
Center a row of paper shapes under the string, then glue the matching shape on top. Let it dry. (You might need to weigh it down to keep the shapes flat – a second craft mat works well for this or you could use a cookie sheet or books, etc.)
 Use a paintbrush to spread a thin layer of glitter glue over the surface of some of the shapes. Let the glitter glue dry.
For more information visit:
www.katiehacker.com