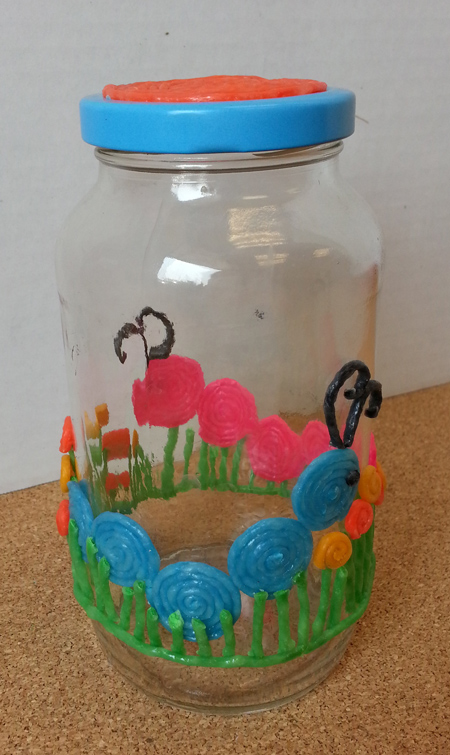 Always cover your work surface with a mat or some type of protective covering like wax paper or plastic.
                                                    

Age Range: 7 to 12
Grade Range: 2 to 6
Skill Level: Easy
Appropriate for :
Summer Activity, Every Day and Rainy Day Activities
Supports Subject Area(s) of:
Language Arts – e.g. step by step instructions
Mathematics - measuring
Visual Arts
Time needed for project:
1 hour, plus time to catch some bugs
LIGHTENING BUG JAR
by Cheryl Ball
Materials Needed:
Wiki Stix® – assorted colors
Jar – washed and dry
Scissors
Ruler
Board covered in foil or a cookie tray
Directions:
To create caterpillar, measure and cut five 7" lengths from turquoise and pink.
Starting at one end, tightly swirl the strips into a flat rounds.
For antennae and eyes, cut two 1 ½" lengths and two very small snips from black. Loosely swirl one end then curve the remaining then roll small snips into rounds.
To create flowers, measure and cut 2" lengths from yellow and orange. Swirl each tightly.  Snip random lengths of green for grass.
Starting about 2" up from bottom edge of jar, press on one of the bug swirls in place, then add others as shown creating body.  Repeat with other caterpillar on other side of jar.  Add antennae and eyes as shown.
Add green snips around entire jar, pressing some over caterpillar and bending some as desired.
Press flowers as shown.
To finish jar, press a long strip of green onto lower edge of grass then trim where ends meet.
Add large orange swirl to top of lid.