Age Range: 7 to 12
Grade Range: 2 to 6
Skill Level: Moderate
Appropriate for:
Every Day and Rainy Day Activities
Supports Subject Area(s) of:
Social Studies
Language Arts – e.g. step by step instructions
Mathematics – measuring
Time needed for project:
1 hour, plus drying time for glue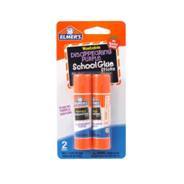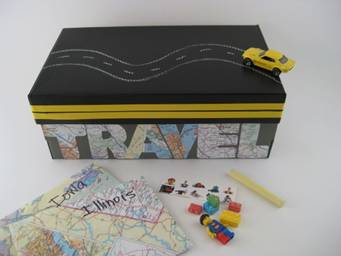 Car Travel Case
by Katie Hacker
Materials Needed:
Kid's shoebox
Old road atlas or map
2 paintbrushes
Black chalkboard paint
Gray acrylic gloss paint
Elmer's® Project Popperz® Repositionable letters
Yellow 3/8" ribbon
Elmer's® Disappearing Purple Glue Stick
Scissors
Chalk
Directions:
Paint the lid with chalkboard paint and the bottom of the box with gray paint. It will probably take a couple of coats to cover. Paint the inside of the lid, too, so you have extra space to draw.
Place a repositionable letter on an old map and cut around it. Cut out all the letters to spell "travel" or your name or whatever word you choose.
Use a glue stick to glue the letters across the front of the box.
Cut two pieces of ribbon to fit around the lid, then use a glue stick to attach them side-by-side like lines on a road.
Use chalk to draw roads on the box lid - or use it to play tic-tac-toe or draw a picture of something you see outside the car. You can draw on the inside of the lid, too!
For more information visit:
www.katiehacker.com