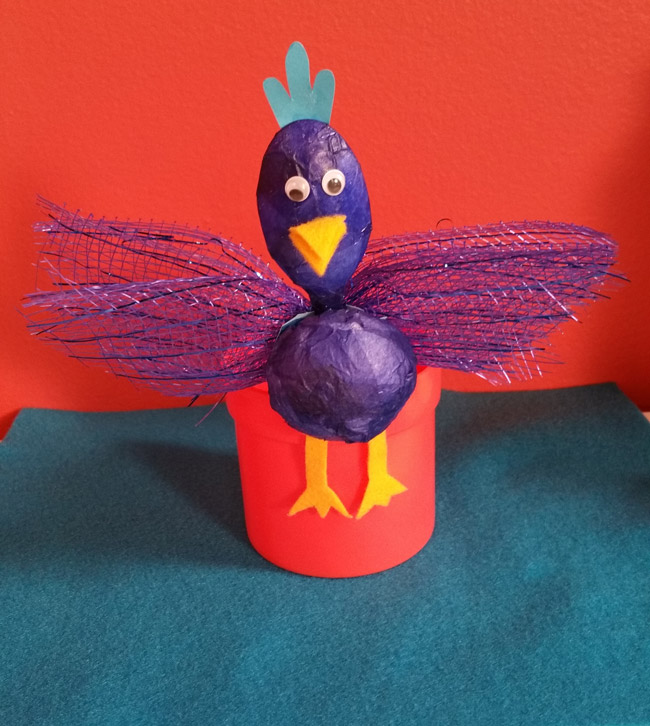 Age Range: 7 to 12
Grade Range: 2 to 6
Skill Level: Easy
Appropriate for These Special Events:
Every Day and Rainy Days
Supports Subject Area(s) of:
Language Arts – e.g. step by step instructions
Mathematics - measuring
Visual Arts
Time needed for project:
1 hour plus glue drying time
SPOON BIRD
Designed by Cheryl Ball
Materials needed:
Elmer's® Clear School Glue
Elmer's® Craft Bond® Tacky Glue
Flora Craft® SimpleStyle® Decorative Mesh – Cobalt Blue
FloraCraft® Styrofoam™ ball or egg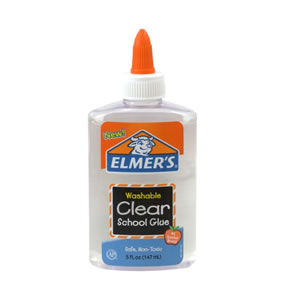 Basic Supplies:
The Kunin™ Group Classicfelt™ – golden yellow
Small piece of light blue construction paper
Royal blue tissue
Plastic spoon
Plastic serrated knife
Wiggly eyes – (2) ¼"
Chenille stem – (1) royal blue
Scissors
Brush
Ruler
Foam plate
Patterns
Directions:
Use scissors to cut 1" wide strips from tissue then cut into squares. 
Cut ball (or egg) in half with plastic knife.  Sand the two halves together to make smooth.
Squeeze a puddle of Clear Glue onto plate.  Use brush to apply an even coat onto both sides of bowl of spoon.  Tap brush onto piece of tissue then press onto glue using brush to smooth onto surface.  Repeat step with another piece of tissue slightly overlapping the first.  Cover both sides of spoon bowl and about 1" of handle with several layers of tissue.  Set aside to dry.
Cover the round half of the Styrofoam ball or egg the same way as with the spoon.  Set aside to dry.
Cut patterns from pattern sheet.  Cut feet and beak pieces from yellow felt.  Cut feather from construction paper.
Measure and cut 10" of blue mesh then fold into fourths lengthwise.  Gather center together then tightly twist chenille stem around gathers, twisting several time to secure.  Place handle of spoon, bowl side down, over twist then twist ends around handle.  Press twist flat and trim ends to about ½".
To create wings, cut ends at an angle as shown starting about 3" from center to about 5".
Glue Styrofoam to spoon below bowl, then glue on eyes, beak, feather and feet.
The wings can be trimmed shorter at this time if needed.
Consider making more birds of different colors.