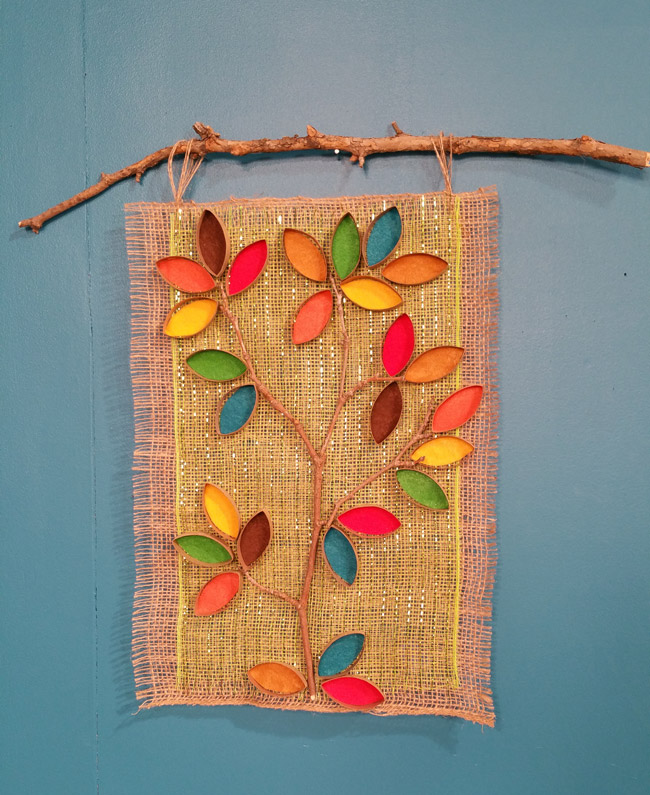 Age Range: 7 to 12
Grade Range: 2 to 6
Skill Level: Moderate
Appropriate for These Special Events:
Fall, Every Day and Rainy Days
Supports Subject Area(s) of:
Language Arts – e.g. step by step instructions
Mathematics - measuring
Visual Arts
Time needed for project:
1 to 1½  hours plus drying time
FALL TREE BANNER
Designed by Cheryl Ball
Materials needed:
FloraCraft® - Natural Burlap – 17" wide
FloraCraft® - Design It® SimpleStyle® - Decorative Mesh – lime
Elmer's® Craft Bond Tacky Glue
The Kunin™ Group Eco-fi® Classicfelt™ sheets – teal, orange, brown, green, red, golden yellow

Basic Supplies:
TP tubes – approximately 5
Real twigs
Large piece of cardboard
Freezer paper
Tape
Scissors
Pencil
Ruler
Sewing pins
Foil or scrap cardboard
Directions:
Cover cardboard with freezer paper, shiny side up, taping to the back.
Measure and cut 13" of burlap.  Place on covered cardboard.  To fray sides, use scissors to carefully snip through selvage then pull off about 5 strings from edge.  Repeat with other side.  Set strings aside to be used later.  Straighten banner and hold in place with pins along sides and top. 
Measure and cut 18" of Lime mesh.  Fray ends by pulling out about 5 strings.
Center mesh over burlap holding in place with pins, trimming mesh as needed to match burlap.  Working in sections at a time, apply a thin bead of glue to back along edges, pressing onto burlap and holding with pins till dry then remove pins.
Use twigs to create tree as shown, cutting as needed.  Place pieces with flattest side to banner.  Apply a thin bead of back of twig where it touches banner then press in place.  Hold in place with angled pins pushed into cardboard as needed to hold till dry.
Cut ½" strips from the TP tubes and pinch the ends to create a pointed oval.  Trace the inside of the tube on the felt or use the pattern provided to create approximately 5 leaves of each color. 
Cut out leaves and glue around twigs.  Apply a thin bead of glue around edge of tube and press onto felt leaves.  Continue with all leaves.
To create hanger, cut the five burlap strands in half, line up ends and tie knot.  Glue knots to back of banner slightly in from edge.  Use longer stick for holder.