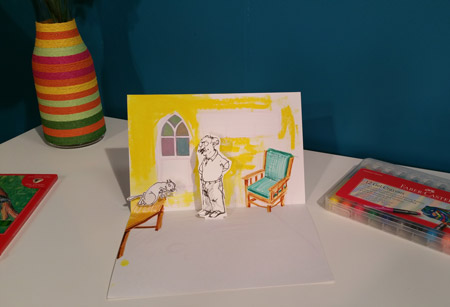 Age Range: 7 to 12
Grade Range: 2 to 6
Skill Level: Advanced
Appropriate for These Special Events:
Every Day and Rainy Days
Supports Subject Area(s) of:
Visual Arts
Time needed for project:
1½ hours
3D Portrait
Materials needed:
Faber-Castell® Gel Crayons
Faber-Castell® Gel Sticks
Faber-Castell® Connector Pens
Faber-Castell® Collapsible Watercup
Faber-Castell® Child Safe Scissors
Canson® Bristol Paper
Canson® Tracing Paper
Glue or Adhesive Tape
Directions:
1. Create a pop up structure by folding your Bristol Paper in half.  Make 2 cuts about 3" apart in the middle of your fold.  When you unfold your paper, bend the cut pieces to create a shelf – this is where you will attach your pop up elements.

2. Create your background on the pop up structure.  Maybe you are at school or in your room or another favorite place.  You can even get creative and cut out areas where there and windows or doors. 
Franz used Gel Crayons on a small piece of Tracing Paper to create a stained glass window.  Add color with your Connector Pens, Colored Eco Pencils, Gel Crayons and Gel Sticks.  Pay attention to how the materials work – color pencils are great for finer details and small spaces while the Gel Sticks and Gel Crayons are great for adding lots of color to bigger areas.  You can smudge and blend the Gel Crayon colors with your fingers, while a wet brush works well on the Gel Sticks.  The neon Gel Crayons are great for adding highlights or areas that would be brighter, like a sunny spot near a window. 

3. Now it's time to make YOU!  Draw yourself on the Bristol Paper using a Connector Pen.  Here Franz worked in black pen. You can choose to be realistic or funny like a cartoon.  Maybe you are wearing your favorite tee shirt or a silly hat or costume.  Have fun with it!  Again use your art materials to add color and detail. 

4. When you are finished you can cut out your character and position it within the pop up environment.  Add a small dab of glue to attach your character to the pop up piece. You can also add other elements like a pet or favorite toy. 

5. To bring it to life, attach it to a paper spring made by folding 2 strips of paper together.  Line your strips and begin folding over each other to make a spring.  Attach your pet or toy and place it in your pop up.