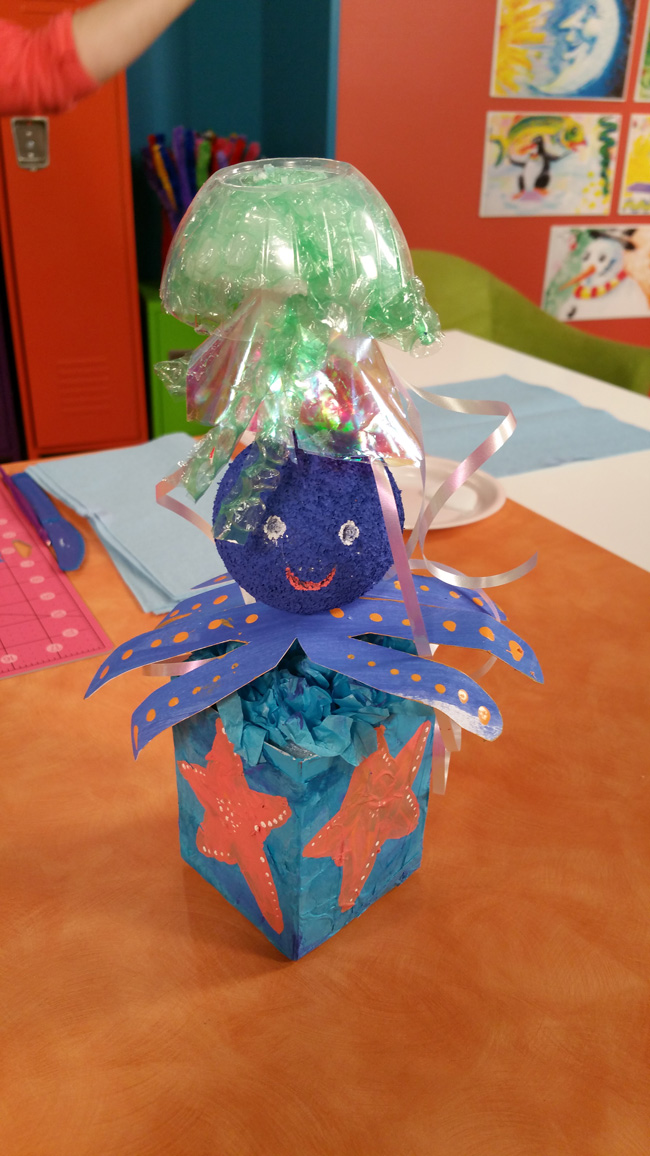 Age Range: 7 to 12
Grade Range: 2 to 6
Skill Level: Moderate
Appropriate for These Special Events:
Every Day, Pretend Play and Rainy Days
Supports Subject Areas of:
Language Arts – e.g. step by step instructions
Visual Arts
Time needed for project:
1 hours plus drying time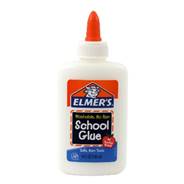 Make a sea-themed totem with your favorite marine animals!
Materials:
Floracraft® Styrofoam™ ball
Floracraft® Styrofoam™ square
Elmer's® School Glue
Recycled juice container or can
Dome lid from plastic drink cup
Rice
Plastic knife
Blue tissue paper
Blue or white construction paper
Scraps of recycled materials like bubble wrap and/or basket wrap
Curing ribbon
Bamboo skewer
Blue, teal, and coral craft paint
Paintbrush
Scissors
Directions:
Clean and dry a juice container. Open the lid and tuck the top inside- OR cut off the top using scissors.
Paint the outside of the juice container with 1-2 coats of teal paint; let dry.
Cover outside of the juice container with blue tissue with white glue- let it wrinkle for texture.
Place the container on top of a piece of Styrofoam™. Trace around using a plastic knife. Cut to size. Repeat so you have 2 square pieces.
Using the scissors, cut tissue into 2 inch squares. Wrap a tissue square and dip the tip into some white glue. Then poke the tissue into the top of one of the Styrofoam™ squares. Repeat until the top is covered. Let dry.
Pour a cup of uncooked rice into the juice container. Place one square of Styrofoam™ into the container. Place glue on top. Then put the Styrofoam™ with the tissue on top on top of that. Let dry.
Place a v ball on a skewer. Paint blue, let dry.
Fold a piece of construction paper in half. Trace your four fingers, placing your hand on the fold. Cut out so you make 8 tentacles.
Place the bamboo skewer in the middle of the base, sticking straight up. Carefully thread the tentacles onto the skewer, sliding it down so it rests on the tissue paper "waves." Slide the blue Styrofoam™ ball on top of the skewer too, so that it makes the body of the octopus.
Cut a Styrofoam™ ball in half with the plastic knife.
Cut the rim off the drink lid.
Cut a circle of bubble wrap to fid OVER the Styrofoam™ ball- glue. Then add more glue and glue the ball INSIDE the drink lid. Let dry.
Cut pieces of basket wrap, curling ribbon, cling wrap or bubble wrap. Fold over the end of a skewer, dip into glue, then push into the underside of the jelly until you feel he has enough tentacles. Let dry.
Press jellyfish into the top of the totem, making sure that the skewer does not come out the top.
Paint finishing touches like a starfish on the base, eyes and mouth on the octopus, and details on the tentacles.
For more information visit: www.CraftTestDummies.com