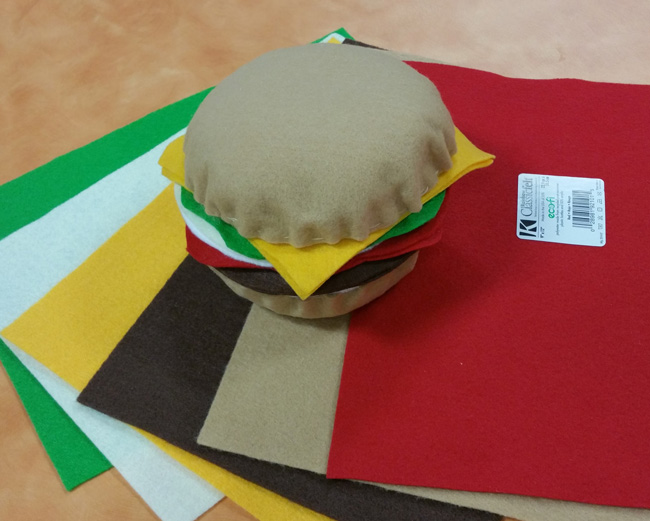 Age Range: 7 to 12
Grade Range: 2 to 6
Skill Level: Moderate
Appropriate for These Special Events:
Every Day and Rainy Days
Supports Subject Areas of:
Language Arts – e.g. step by step instructions
Mathematics - measuring
Visual Arts
Time needed for project:
1 hour

FELT CHEESEBURGER
Designed by Debra Quartermain
Materials:
Elmer's® Glue-All®
Kunin™ 12" x 18" Craft Cuts Eco-fiPlus™ Premiumfelt™-walnut (1), cashmere tan (1), white (1)
Kunin™ 9" x 12" Craft Cuts Eco-fi® Classicfelt™-green (1), antique white (1), red (1), yellow (1)
Foam-1"-6" x 12" (Polyester stuffing or cotton balls can be used)
Scissors
Pins
Pattern pieces
Needle
Beige thread
Ruler
Pencil

HO_1909-4_INST_2.pdf

HO_1909-4_INST_3.pdf

HO_1909-4_INST_4.pdf
Directions:
Cut pattern pieces from pattern sheets.
Refer to pattern pieces and cut two outer buns, two inner buns and foam inserts. Sew a straight stitch around outside edge of each outer bun piece. Pull stitches to gather outer buns to fit inner buns. Secure stitches.
Insert foam inside outer bun pieces. Glue an inner bun piece to each outer bun.
Cut two inner and outer patties from walnut. Stack with two inner patties between two outer patties. glue around inner edge. Press in place.
Cut one onion from white and one onion piece from antique white. Spiral cut the white piece. Fold white piece back into circle. Place over top of antique white circle. Glue.
Use circle as guide to cut two wavy shapes from green for lettuce. Glue pieces together.
Use circle as guide to cut two wavy shapes from red for ketchup. Glue pieces together.
Cut two squares from yellow for cheese. Glue together.
Use pieces from Steps 4, 5, 6, 7, 8 and build a cheeseburger between bun pieces.