Age Range: 7 to 12
Grade Range: 2 to 6
Skill Level: Moderate
Appropriate for These Special Events:
Every Day, Pretend Play and Rainy Days
Supports Subject Areas of:
Language Arts – e.g. step by step instructions
Mathematics - measuring
Visual Arts
Time needed for project:
1 ½ hours plus drying time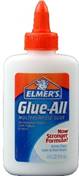 Designed by Debra Quartermain
Materials:
Elmer's® Glue-All®
Kunin™ 12" x 18" Craft Cuts Eco-fiPlus™ Premiumfelt™-royal blue (2), red (2)
Kunin™ 9" x 12" Craft Cuts Eco-fi® Classicfelt™-black (1), orange (1), yellow (1)
Scissors
Pins
Circle templates, 2", 2 1/4", 2 1/2"
Pencil
Directions:
Cut curve along bottom edge of one red felt piece for wing shape. Use photo as guide. Place cut wing on top of second piece as pattern. Cut second piece.
Overlap straight edge of blue pieces along straight edge of red pieces lengthwise. Glue. Fold blue upper edge over to meet glued edge to create pocket sleeve. Glue. Repeat for second wing. Refer to photo angle cut each end of blue wing pocket sleeves.
Cut out circles for wings from yellow, orange and black. Cut out as many as you choose.
Arrange and glue circles to wings.