by Patty Cox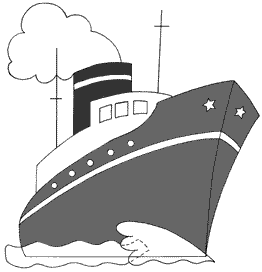 Make a 3-D Album Cover using glue and paper in a very unique way. It will be the perfect place to store all the photographs you'll take on your trip!

You will need:
Bemiss-Jason Corobuff®,
Shredded Craft Confetti,
Construction & Tissue Paper;
Fiskars® Punches,
Student Scissors & Paper Edgers;
Darice®
Embellishments & Raffia;
Elmer's®
Craft Bond™
Glue Stick,
Gloss Decoupage Finish & Fun
Dimensions™ Ice-A-Delic Cool Gel
Instructions:








Trace the entire pattern onto white construction paper. Cut around the outside edge of ship. Trace and cut red and black pattern pieces for hull and smokestack. Punch holes and stars in hull as shown, then glue onto main ship pattern.
Place ship on 8" x 10" white background paper (cover) then draw a line to mark the horizon. Set the ship aside.
Place cover on wax paper. Tear red, pink, orange, yellow and blue tissue paper into 1" wide strips. Brush decoupage finish onto the paper above horizon. Lay overlapping strips of red, pink, yellow and orange tissue paper onto wet surface to make different shades for the sunset. Glue blue tissue paper strips below the horizon for the water.
Brush decoupage finish over the back of the ship. Place on the cover. Tuck, then glue white confetti shreds under the top of the smoke stack. Brush decoupage finish over the whole page.
To make waves, crumple pieces of white tissue paper then glue on top of the blue. Make a "V" shape with one piece of crumpled paper and place at the front of the ship. Apply icy gel to the edge of the waves to make them sparkle. Set aside to dry. Trim edge of paper with decorative edge scissors then glue onto blue corrugated paper (coruboard).
Punch 3 holes into the same channel on the long edge of the coruboard about 1/2" from the edge. Punch one hole about 2" from the top, one hole 2" from the bottom and the third hole in the center. Place on top of second piece of coruboard, wrong sides together. Mark holes then punch holes in second piece. Tie boards together with raffia.
Write, stamp or stencil the title onto a 11/2" x 31/2" piece of yellow paper. Glue onto orange paper then trim with decorative scissors. Glue to the front. Decorate with buttons if desired.
Home | Television | Projects | Book Order | Helping Kids | Teachers | Philosophy
E-mail questions about Hands On Crafts for Kids to info@craftsforkids.com
© Copyright 2004 Katherine Stull, Inc.