by Tracia Ledford Williams
&nbsp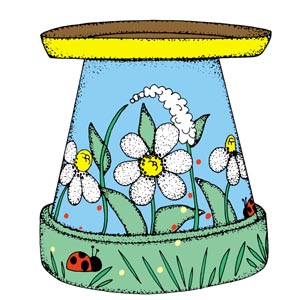 Create a wonderful perch for your feathered freinds from painted clay pots.
You will need:
Acrylic Paint - Ivory, Spring Green, Green, Magenta, Black, Periwinkle Blue, and Yellow
Interior-exterior varnish
5" x 5" compressed sponge
Scissors
Pencil with new eraser
#5 Round brush
Small stencil brush
1" Sponge brush
Silicone Glue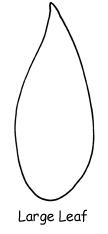 Instructions:
Use the sponge brush to basecoat the bottom and sides of the saucer yellow, the bottom and sides of the pot blue and the top edge of the pot green.
Transfer the shapes to the compressed sponge and cut out. Dip the shapes in the water to expand then wring out excess.
Turn the flower pot upside down. Dip the flower petal sponge in ivory paint and make side view and full view daisies around the sides of the pot. Paint flower centers yellow then add ivory highlights and tiny black dots around the centers.
Dip leaf shapes in green paint and add leaves around the flowers. Use the round brush to paint stems and blades of grass.
Dip pencil eraser in yellow and magenta and scatter dots around the pot.
Print magenta ladybugs on flower stems and around the base of the pot. Using a round brush, paint the head, antennae, feet and body dots with black. Let dry.
Brush on 3 coats of matte varnish, allowing each coat to dry between applications.
Glue the saucer on top of the pot with silicone glue.
Note: Bring your birdbath indoors during freezing weather to prevent cracking.
Delta Ceramcoat® Acrylic Paint and Matte Interior-Exterior Varnish; Eagle® Golden Taklon Brushes; Fiskars® Scissors
Home | Television | Projects | Book Order | Helping Kids | Teachers | Philosophy
E-mail questions about Hands On Crafts for Kids to info@craftsforkids.com
© Copyright 2004 Katherine Stull, Inc.