by Tracia Ledford Williams
Paint a great face on a clay pot or glass container to bring snow indoors without melting!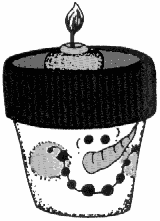 You will need:

Surface conditioner and gloss glaze
Brushes- #5 Round, #12 Flat, 18/0 Liner and 3/4" Flat
Tracing and transfer paper
21/2" Terra cotta pot
Glass votive

Glass paint - White, Black, Tangerine, Red and Shimmering Blue
Assorted glass paints


Instructions:

Apply surface conditioner to entire surface of pot.

Snowman Candle Holder
Paint bottom of pot white and top edge black.
Mix a small amount of red with white and paint cheeks pink.
Paint nose tangerine.
Add black dots for eyes and mouth. Use a liner brush dipped in black to add line to mouth and nose. Let dry. Apply a thin layer of gloss glaze to seal.

Snowflake Candle Holder

Paint pot with two coats of blue glass paint.
Paint snowflakes white with a liner brush.
Apply a coat of gloss glaze. Let dry.
Delta Permenamel Glass Paint, Surface Conditioner and Gloss Glaze; Eagle Golden Taklon Brush
Home | Television | Projects | Book Order | Helping Kids | Teachers | Philosophy
E-mail questions about Hands On Crafts for Kids to info@craftsforkids.com
© Copyright 2004 Katherine Stull, Inc.