by Brenda L. Spitzer
Striping clay is a great technique that can be used to make many different projects. We start out with a candy cane but stripes can be made into many different seasonal projects.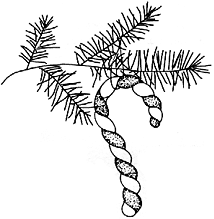 You will need:

White and Red modeling clay
Decorative glitter glue
Wax paper
Small Paint brush
Masking tape
Metallic thread


Instructions:



Tape a sheet of wax paper to work table. Break off enough white clay to make a 1" diameter ball. Roll ball between palms until it begins to form a long rope. Place rope on waxed paper. Continue to roll the clay against the table until it is about 8" long.
Repeat with red clay. Place the roped together, side by side. Twist the ropes by rolling to form one striped rope. Place this rope on waxed paper and roll until smooth.
Use a knife to cut rope to 5" long. Neatly trim both ends. Bend into a cane shape.
Use brush to coat surface of cane with decorative glue. Let dry. Turn the cane over and repeat for back. Let dry.
Cut a 12" piece of decorative thread. Tie a loop in the center of the thread around the top of the candy cane in a double knot. Bring the threads ends together and tie with an overhand knot to form a hanging loop.
Prang Modeling Clay; Elmer's Squeeze Creations Glitter Gel; Eagle Taklon Brush; Fiskars Ruler and Scissors
Home | Television | Projects | Book Order | Helping Kids | Teachers | Philosophy
E-mail questions about Hands On Crafts for Kids to info@craftsforkids.com
© Copyright 2004 Katherine Stull, Inc.