by Lynda Musante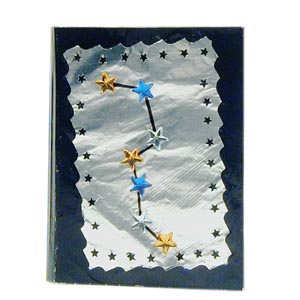 You will need:
Paper board photo album
Plastic backed foil-black and silver
Seven 16mm star rhinestones
¼" Star hand punch
Decorative edge scissors
Black permanent marker
¼" Wide double stick tape
Stylus
Scissors
Ruler
Instructions: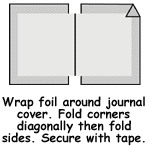 Cut a piece of black foil 8½" x 12" and place on table with black side down. Center opened photo album on top of foil. Use stylus to trace around the edges of the album. Remove album from foil. Fold foil in half, aligning the 8½" edges. Cut a slit in foil ¼" from folded edge, cutting from top edge of foil to traced line. Repeat at the bottom. Open foil up and trim tab to ¼" length.
Place album back onto foil with center spine of album aligned with the center fold of foil. Place tape on tabs and fold tabs in. Fold top and bottom edges of foil up onto album and use double sided tape to secure foil. Diagonally fold corners (like wrapping a package) and similarly fold and tape side edges of foil to album.
Cut two 4½" x 6¼" pieces of black foil for inside lining pieces. Tape pieces to the inside of the front and back album cover.
Cut a 4¼" x 6¼" piece of silver foil. Trim along edges with decorative edge scissors. Punch stars along edges of foil piece with hand punch. Adhere to cover of album at a slight angle with double sided tape.
Use double stick tape to attach star rhinestones in a "Big Dipper" formation on front of photo album. Draw lines between stars with black permanent marker.
Reynolds® Bright Ideas™ Crafting Surface Blanks, Ultra™ Foil, Double Sided Tape, Stylus; Darice® Rhinestones; Fiskars® Long Paper Edgers, Scissors, Hand Punch; Sakura of America Permapaque™ Marker.
Home | Television | Projects | Book Order | Helping Kids | Teachers | Philosophy
E-mail questions about Hands On Crafts for Kids to info@craftsforkids.com
© Copyright 2004 Katherine Stull, Inc.