by Tracia Ledford Williams
Let's cook up a whole batch of projects. Start with a cookie cutter - no we're not baking; add Styrofoam and acrylic paint and you'll end up with great stamped bags, stationery and greeting cards.
You will need:
Acrylic Paint:
Opaque Red,
Jubilee Green,
Calypso Orange,
Royal Fuchsia,
Opaque Yellow,
Navy Blue,
Grape Purple,
Caribbean Blue
Assorted Cookie Cutters
1" Styrofoam® sheet
Black permanent pen
Assorted paper bags, cards, and envelopes
A new pencil with a new eraser
Decorative Scissors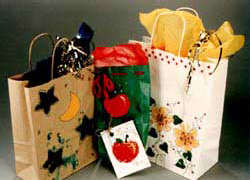 Instructions:
Press cookie cutters into Styrofoam to cut out shape. If some Styrofoam bits remain around the design, remove them with a plastic knife rubbed with an old candle.

Dip Styrofoam shape into a fresh puddle of paint that has been poured onto a paper plate and stamp onto surface. Once stamping of design is completed, let all paint dry. The following colors were used with the following shapes:
Moon - Opaque Yellow Stars - Navy Blue Flowers - Calypso Orange Leaves - Jubilee Green Butterflies - Grape Purple Apples - Opaque Red

Dip a pencil eraser into Royal Fuchsia then use to stamp dots on flowers. Add smaller dots using a paintbrush handle or a toothpick. Paint small dots around butterflies Caribbean Blue and Calypso Orange. Tiny dots of all colors have been added around designs using a toothpick dipped into a fresh puddle of paint. After all dots have dried, add outlines and curly vines with the black pen.

(Optional) Tie with colored ribbons and fill with assorted tissue papers to make festive designs. Use paper edgers and corner edgers on cards to create pretty designs.