by Pattyi Cox
&nbsp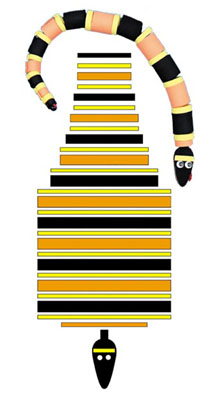 The colorful coral snake is found in the southern desert region of the United States. It's small but very poisonous. Make his brightly colored rings with coiled strips of foam.

You will need:
Adhesive foam sheets - Black, Orange and Yellow
8mm Black bead
2 Red chenille stems
2 Wiggle eyes - 8 mm
Scissors
Glue
Sequin pins
Optional: Plain foam sheets and glue


Instructions:
Bend a 1" hook in one end of two chenille stems. Interlock hooks then twist securely. Add a black bead to one end of chenille stem. Wrap a 1" hook around bead, then twist hook onto chenille stem. Trim chenille from stem around bead. Bend a 1" fork tongue at the other end of stems. Twist each fork together.
Cut adhesive foam strips as shown. Remove paper backing from shortest black foam strip. Beginning at bead end, wrap foam strip around chenille stem. Wrap the shortest yellow strip next to the black coil. Wrap the shortest orange strip next to the yellow coil. Push coils together toward bead end. Continue adding foam strips, graduating from shortest to longest strips. Insert a sequin pin at the end of each coil to hold in place.
Cut two head shapes with neck tab. Cut and remove paper backing on each tab on back of head only. Stick tabs and head back together, on each side of chenille stem. Wrap the 6" orange neck strip around the chenille stem, covering tabs.
Cut a 1" x 1/4" yellow foam strip. Stick strip across top of the head. Glue wiggle eyes below yellow stripe.
Darice® Chenille Stems, Preadhesive Foamies™, Wiggle Eyes, Beads, Sequin Pins; Fiskars® Scissors; Elmer's® White School Glue.
Home | Television | Projects | Book Order | Helping Kids | Teachers | Philosophy
E-mail questions about Hands On Crafts for Kids to info@craftsforkids.com
© Copyright 2004 Katherine Stull, Inc.