by Tracia Ledford Williams
&nbsp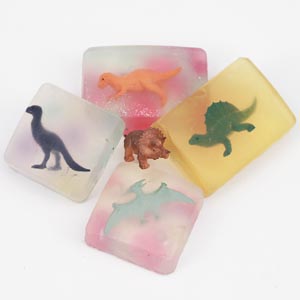 It's hard to resist adding a fun project to clean up. Make decorative soaps for a fun look at dinosaurs.
You will need:
Clear glycerin soap
Colored glycerin soap
Soap molds
Plastic dinosaurs
Microwave
Glass measuring cups
Sharp knife
Optional: glitter and fragrance oil

Instructions: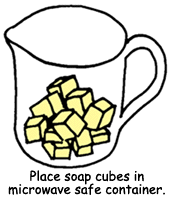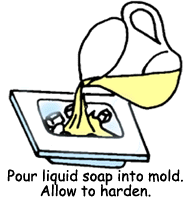 Have an adult, cut clear glycerin soap into 1" cubes and colored glycerin soap into 1/4" cubes. Place into glass measuring cups and heat in the microwave on high for 15 seconds at a time. Check between times. Do not overheat soap, just melt it.
Place dinosaurs into the molds, pour clear glycerin over them, and place small colored pieces of glycerin into the mold around the dinosaur.
Allow soap to cool 1-2 hours, or place into refrigerator for 30 minutes. Lightly twist mold and remove soaps from mold.
Soaps can be placed in a clear cellophane bag and decorated with stickers for gift giving.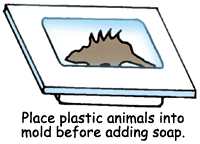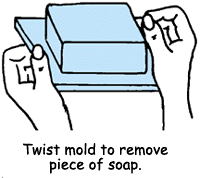 Delta Soap Creations™, Fragrant Accents™, Finishing Touches™, Clear Glycerin, No Tip Mold.
Home | Television | Projects | Book Order | Helping Kids | Teachers | Philosophy
E-mail questions about Hands On Crafts for Kids to info@craftsforkids.com
© Copyright 2004 Katherine Stull, Inc.