by Julie McGuffee for Craftworks Magazine
&nbsp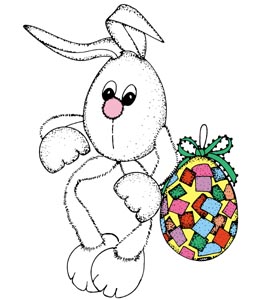 Make a basket of eggs and a bunny too, from Styrofoam and tissue paper.
You will need:
3" Styrofoam eggs
Two 2" Styrofoam eggs
Asstd. colors of non-bleeding tissue paper
White tissue paper
2 White bumpy chenille stems
Pink bumpy chenille stme
White foam
Tacky glue
Glitter glue
Paintbrush
6" of 1/4" Ribbon
Paper clip
Scissors
1/2" Pink pompom for nose
Wiggle eyes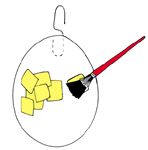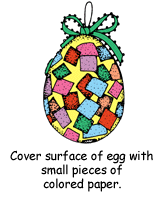 Instructions:
Mosaic Egg:
Choose 4-6 colors of tissue in pastel or bright colors. Tear three or four 1" wide strips from the end of the tissue sheets. Choose the lightest color and tear these strips into 1" pieces. Tear or cut the remaining strips into smaller pieces.
Push a pencil into the bottom of the egg to use for a handle. Squeeze tacky glue onto a paper plate. Wet the paintbrush with water and working with a small area at a time, spread glue over the surface of the egg. Place 1" squares of tissue on the egg, smoothing in place with the paintbrush and glue. Continue until the egg is completely covered with the lightest color.
Add smaller pieces of different colors of tissue on top of the base color, smoothing in place with the paintbrush and glue. Place randomly around the egg or arrange in a pattern.
Let dry. Re-coat the surface of the egg with glitter glue.
Unbend the paper clip to make a hook as shown. Push the narrow end into the top of the egg. Tie a bow around the top if desired.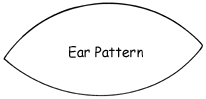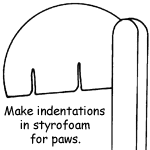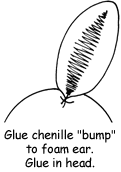 Rabbit:
Cut two, 2" styrofoam eggs in half for feet and hands. Use a craft stick to make indentations on from of each piece for paws. Cover each piece and a 3" egg with small pieces of white tissue paper. Let the tissue paper dry.
Bend one white chenille stem in half. Twist at fold then push twisted end into base of egg. Push half a styrofoam egg onto opposite ends for feet. Cut a second chenille stem in half. Push on end into each side of the egg for arms. Glue remaining half eggs to opposite ends for paws.
Cut two ears from white foam. Glue a white (or pink) chenille "bump" to the center of each ear then glue the opposite end of the chenille into the head. Glue eyes and nose in place to finish.
Dow Styrofoam® Brand PlasticFoam; Darice® Foamies™ and Chenille; Elmer's® Craftbond™ Tacky Glue and Squeeze Creations™; Bemiss-Jason Spectra® Non Bleeding Tissue Paper
Home | Television | Projects | Book Order | Helping Kids | Teachers | Philosophy
E-mail questions about Hands On Crafts for Kids to info@craftsforkids.com
© Copyright 2004 Katherine Stull, Inc.