Instructions:
1. Draw Egyptian symbols as shown or create your own on sketch paper. The pattern should be symmetrical (same on one side of the paper as the other). Remember Egyptian faces are in profile.

2. Lay the paper on top of foam tray and tape edges down.

3. Using a pencil, press over drawing to make dent on foam. Remove paper.

4. Trace over pattern on tray with pen.

5. Squeeze paint on a plate and roll brayer through paint. Roll the brayer over the pattern, applying an even coat of paint.

6. Lay construction paper over the paint covered tray and press. Peel off paper to see print. Let dry.

7. You can use the foam tray over again if you'd like to change colors of your print. Just rinse the foam tray and repeat steps 5 and 6.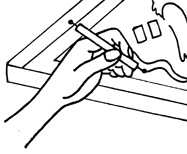 Trace over designs to make
impression on tray.