Let's go tracking for forest animals like the white tailed deer, squirrel and maybe a wolf. Create a rug using carpet scraps and paint showing various animal prints.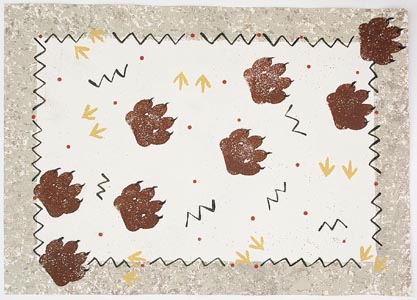 You will need:
Vinyl flooring 36" x 24" (the pattern doesn't matter, we're using the back)
Acrylic paint - Ivory, Light Brown, Brown, Spice Brown, Yellow, Dark Green and Dark Orange
Exterior varnish
Die Cut Machine or scissors
Dies or patterns - paw prints
Scissors
Compressed sponges
Paintbrushes
Sea sponge
Masking tape
Toothbrush
Pencil

Instructions: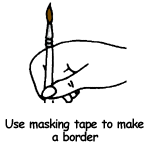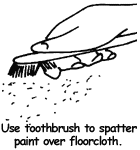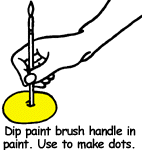 Paint the backside of the vinyl piece with light ivory paint, let dry. Apply masking tape 2" from the edges, all the way around the floorcloth, creating a rectangle in the center.
Using a sea sponge, dip into light brown paint and apply around the border. Dip the same sponge into the brown paint and apply around the border allowing some of the first color to show through.
Using the die cut machine or pattern and scissors, cut out a large bear paw print from a piece of compressed sponge. Trace bird footprint on compressed sponge and cut out with scissors. Dip both sponges into water to expand, then wring out excess water.
Dip bear paw print into spice brown paint and apply to floor cloth. Dip bird foot print into yellow paint and apply to floor cloth.
Using round brush and dark green paint, paint zig zag lines around the border. Add orange dots around footprints.
Dip toothbrush into brown paint, and spatter floorcloth. Let all paint dry. Using a large brush, apply 3 coats of varnish, allowing each coat to dry between applications.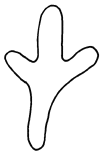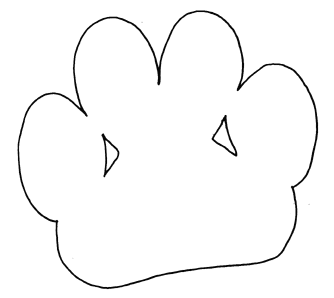 Delta Ceramcoat® Acrylic Paint, Ceramcoat® Exterior/Interior Varnish; Eagle® Paintbrushes; Ellison® The Original Ellison® LetterMachine™, Decorative and Instructional Dies; Fiskars® Scissors; Darice® Compressed Sponges, Sea Sponge.