by Jennie McGuffee
&nbsp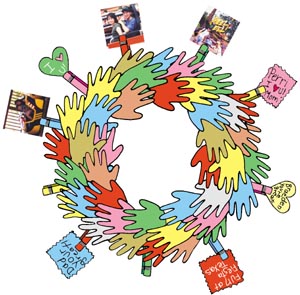 Make a wreath of thank you's filled with all the things you or your whole group of friends are thankful for.
You will need:
12" Styrofoam wreath
Assorted metallic papers
Assorted decorative papers
Black marker
Raffia
Colored craft sticks
Glue
Scissors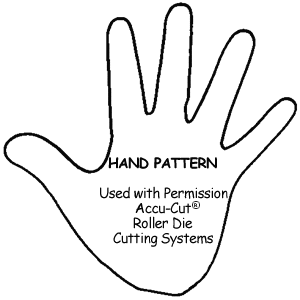 Instructions: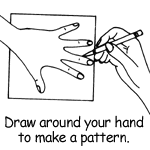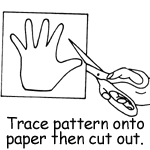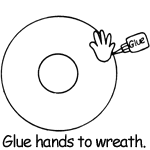 Make a hand pattern by drawing around your own hand or use the pattern given. Trace patterns on to tag board then cut out.
Trace around pattern then cut 6 each green, yellow, red and brown waffle paper hands. Cut 2 each silver and gold and 3 copper hands from metallic corrugated paper.
NOTE: Trace pattern onto back of corrugated paper.
Starting at the outer edge of the styrofoam wreath, glue one row of hands around the edge in the following order: red, yellow, green and brown. Glue a second row of hands around the inside edge of the wreath. Glue a third row of hands in metallic colors on top of the first two rows in the following order: silver, copper and gold. Carefully push the colored craft sticks into the outer edge of the wreath.
Write the names of friends and family or other things you are thankful for on the hands, or clip special photographs to the craft sticks with mini clothespins.
Elmer's® White School Glue; Forster® Craft Sticks; Accu-Cut® Die Cut Shapes; Bemiss-Jason® Waffle Paper, Corobuff™ Metallic Sheets; Fiskars® Scissors.
Home | Television | Projects | Book Order | Helping Kids | Teachers | Philosophy
E-mail questions about Hands On Crafts for Kids to info@craftsforkids.com
© Copyright 2004 Katherine Stull, Inc.