by Mary Lynn Watson Craft House International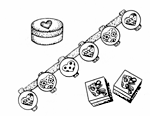 You will need:

1/4 cup Sweet Almond Oil (found at health food stores)


1/4 - 1/2 oz Beeswax


Flavor Oil (found at Candy Supply Store)


Small aluminum sauce pan*


1 cup aluminum measuring cup*


Old spoon


Small containers for finished balm


Paper


Stickers


Scissors


*Use together to make a mini double boiler




Instructions:



Pour 1/4 cup almond oil into the measuring cup. Place measuring cup in the saucepan of warm water and heat gently. Slowly add 1/4 ounce of beeswax to the warm oil, and wait for the wax to completely melt. (Be careful not to let the water boil out of the saucepan as the wax melts! Add more water to the saucepan, if needed.)


Using an old metal spoon, mix the now liquid wax and oil potion together. Flavor the balm by adding five drops of flavor oil. Stir to blend.


Remove double boiler with mixture from heat and set aside. Now test the consistency and strength of your lip balm! Pull your spoon out of the blended mixture, allowing a small puddle of balm to remain in spoon bowl. Carefully place spoon in refrigerator to cool. When cool, gently run your finger over the hardened balm mixture. If the Balm is too hard (waxy), add more oil to your mixture. If it is too soft, add more wax. Do this until you've reached the desired consistency. A few more drops of flavor oil can be added at this time if desired.


Place double boiler back onto the stove to re-warm and melt any ingredients you may have added. When all ingredients are thoroughly melted and mixed together, have an adult spoon balm into small, clean pots and jars. Set aside to cool. As your balms cool, embellish jar lids with decorative stickers!










Fiskars® Scissors and Stickers, or Rubber Stamps;
Craft House International - 1(419)536-8351
Home | Television | Projects | Book Order | Helping Kids | Teachers | Philosophy
E-mail questions about Hands On Crafts for Kids to info@craftsforkids.com
© Copyright 2004 Katherine Stull, Inc.