by Sarah Stull
&nbsp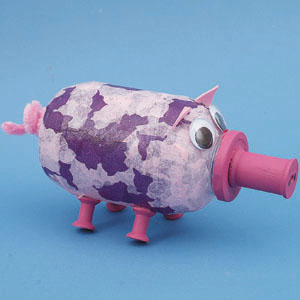 Farms aren't complete without pigs, notorious for being a very messy animal. Our pig is actually very clean and a perfect bank for storing loose change.
You will need:
Glass mayonnaise or pickle jar with lid - (about 7" high and 3" diameter)
4 Wood 1" spools
3" Spool
2 Large 1" wiggle eyes
Tissue paper - Pink and Purple
Decorative edge scissors
Pink fat chenille stem
Foam sheet - Pink
Acrylic paint - Pink
Black marker
White glue
Paintbrush

Instructions: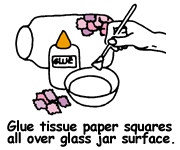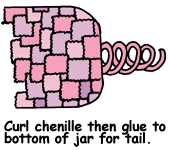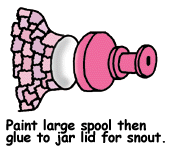 Paint the 5 spools and jar lid pink. Set aside to dry.
Cut tissue paper into 1" squares with decorative edge scissors. Apply slightly watered down glue to the surface of the jar. Glue on squares of tissue paper, overlapping to cover the entire jar up to the threads on the neck where the lid screws on. Apply a thin layer of glue over the top as a finish and let dry.
Glue large spool to the lid and screw to jar. Draw 2 black dots on the front for the snout.
Glue spools on the bottom as shown for legs. You will need a thick layer of glue to secure. Let dry overnight.
Cut 2 ears from pattern on pink foam then glue to top of the jar. Glue on eyes.
Curl the chenille stem around a pencil then glue to back of pig. Glue one coil to jar to attach firmly.
Darice® Wiggle Eyes, Chenille Stem, Wood Spools, Foamies™; Fiskars® Paper Edgers; Bemiss-Jason Spectra® Art Tissue; Elmer's® White School Glue; Eagle® Paint Brush; Delta Ceramcoat® Acrylic Paint; Sakura of America Permapaque™ Opaque Paint Marker.
Home | Television | Projects | Book Order | Helping Kids | Teachers | Philosophy
E-mail questions about Hands On Crafts for Kids to info@craftsforkids.com
© Copyright 2004 Katherine Stull, Inc.