by Patty Cox
&nbsp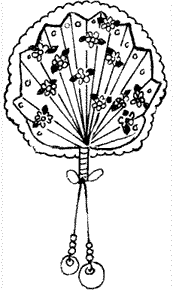 Cherry blossoms have been cherished for centuries by the Japanese as a symbol of their national character. Decorate a folded paper fan with these highly prized, beautiful blossoms.

You will need:
12" x 18" Fadeless Metallic
Paper - Fuchsia
Green Crêpe Paper
Construction Paper - Pink and Yellow
3 Iridescent Chenille Stems
Decorative Scissors
Hole and Heart Punches
Paper Crimper
Glue
Glitter Glue
Corrugated Cardboard
Straight Pins
Misc. Embellishments - Sequins, Raffia and Pony Beads
Instructions:
Fold 18" paper in half. Cut an arc on top and sides with edger scissors as shown in diagram.
Make accordion folds in fan paper every 1". Run folded paper through crimper at an angle. Bend and lightly crease lower 2" of folded paper. This area will be the handle. Open folds.
Punch a round hole in each 1" section, about 1/2" from top edge.
Make 12 Blossoms: Cut leaves from crêpe paper. Twist the center. Punch four pink hearts then glue to center of leaf as shown. Punch then glue a yellow dot in the center. Glue blossoms on fan, above handle crease. Make dots around flowers with glitter glue then glue sequins between the dots. Allow glue to dry.
Refold fan then wrap chenille stems around the handle. Fold an 18" strand of straw raffia in half then wrap it around the handle. Tie pony beads and sequins on the strands.
Temporarily place fan on corrugated cardboard. Apply glue to each outward fold on fan back. Lay fan on a sheet of pink construction paper. Stick straight pins in each inward fold to hold fan in position until glue dries. Remove the fan from cardboard then trim the backing paper with the decorative scissors approximately 3/4" from the edge of the fan.
Bemiss-Jason Metallic Fadeless™ Paper, Crêpe Paper & Spectra Construction Paper; Darice® Chenille Stems & Embellishments; Elmer's® Fun Dimensions™ Glitter Glue; Fiskars® Paper Edgers, Paper Cripmer & Punches
Home | Television | Projects | Book Order | Helping Kids | Teachers | Philosophy
E-mail questions about Hands On Crafts for Kids to info@craftsforkids.com
© Copyright 2004 Katherine Stull, Inc.