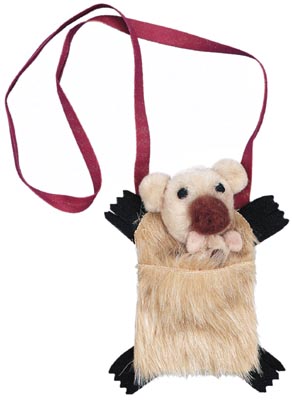 On a visit to the Outback, you're sure to see a Marsupial. These are animals that carry their young in a front pocket, or pouch. Kangaroos are just one example. This project is a fun way to remember this important attribute of a marsupial, while making a fabric purse for yourself.
You will need:
Foam - Brown and Black
2" Beige pom pom
1 1/2" Beige pom pom
1" Brown pom pom
Three 1" Beige pompoms
Two 3/4" Beige pom poms
3/4" Dark Brown pom pom
Brown fake fur
Tacky glue
Scissors
Small hole punch
1 yard ribbon or cord
Black marker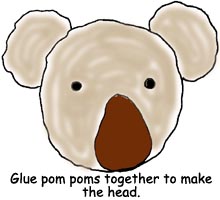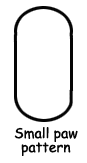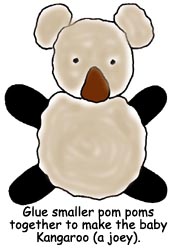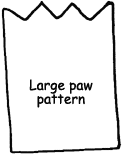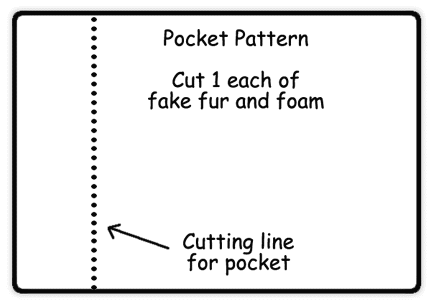 Instructions: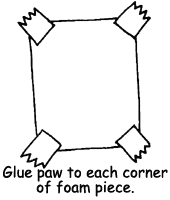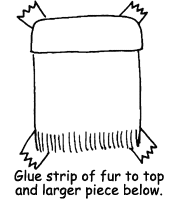 Cut a 3 1/2" x 4 1/2" rectangle from brown foam and a second rectangle from fake fur. Cut four paws from black foam. Note: It is easier to cut fur from the back.
Glue one paw to each corner of the brown foam. Cut 1 1/2" strip from the short edge of the fur rectangle then glue this at the top of the foam over the paws.
Glue the remaining piece of fur on the front of the foam piece along the edges only. This will form the "pocket".
To make the head, glue the large pom pom to the center of the strip of fur at the top. Holding the center of the larger dark brown pom pom between the finger and thumb of one hand, trim the pom pom on one side to flatten. (Do not cut through th center, or the pom pom will fall apart.) Glue to the center of the head for a nose. Trim two of the medium beige pom poms in the same manner then glue to each side of the head for ears.
Punch two circles from the black foam then glue to the head for eyes.
To make the "Joey" to put inside the pocket, glue pom poms together in the same manner. Use the medium pom pom for the head, the dark brown pom pom for the nose and the two tiny pom poms for the ears. Press the tip of a black marker into the pom pom above the nose to make eyes.
Cut four small paws from black foam then glue into body.
Glue ends of ribbon to the back of the foam at the top corners.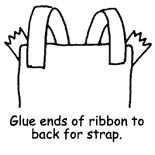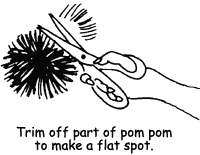 Darice® Pom Pom's, Fake Fur, Foamies™; Elmer's® Craft Bond™ Tacky Paste; Fiskars® Scissors, Hole Punch; Sakura of Amerika Permapaque™ Opaque Paint Marker.